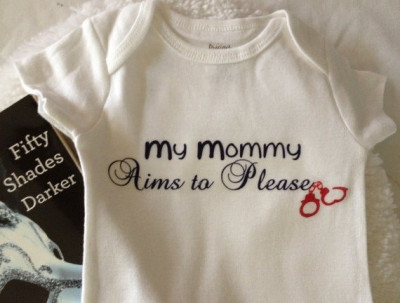 Next year is set to be a bumper year for baby births, with the Diamond Jubilee, Kate Middleton's pregnancy - and the fall-out from E L James' bestselling erotic novel 50 Shades of Grey.
The popularity of the latter has led baby clothing companies to take advantage and produce 50 Shades-themed clothing for the newborns conceived as a result of the love affair between 50 Shades protagonists Christian Grey and Anastasia Steele.
Although many expectant mothers say the erotic novel has nothing to do with their pregnancy, others agree it led to them conceiving.
On a netmums forum, one user wrote: "I'm having a 50 shades baby!! Damn you Christian Grey!!"
Another said: "Im possibly pregnant after reading the books as me and hubby sex life has increased dramacticly (sp) And alot more adventourus (sp) thanks to books and yes the books r brill."
California-based Stephanie Beech, owner of Etsy online store Miss Phie's BOW-tique, has bought out a range of babygros for couples who are having a 50 Shades baby.
The outfits read: "9 Months Ago My Mommy Read 50 Shades of Grey", "My mommy aims to please" and "Mommy - lip biter, Daddy - eye roller", among others.
Another baby bib, from Esty seller Jody Wilson, owner of My4boys911, says: "I'm 'Lil Blip' Thank you 50 Shades of Grey".
For people who do not know what Lil Blip is, it refers to what Anastasia Steele calls her baby before going in to have a caesarean section.