A hangman known to have executed at least 400 men and women was asked to tell the government how he did his job almost 15 years before capital punishment was abolished in 1964.
Albert Pierrepoint was a long-serving hangman in England and became the Chief Executioner in 1941. Born in Yorkshire in 1905, Pierrepoint was acknowledged by the Home Office as the most efficient executioner in British History in 1956, after his retirement from service.
In 1950, the Home Secretary asked him to describe his technique to the Royal Commission on Capital Punishment, which was set up to study whether executions in the UK should be "limited or modified".
His response, published by the National Archives, read: "We have to report at the prison before 4 o'clock in the afternoon the previous day. On arriving at the prison we are shown to our rooms. Shortly afterwards we are shown the execution chamber and we prepare.
"We have a dummy execution, a rehearsal, on that afternoon when we arrive. Then in the evening, say about 5 o'clock or 6 o'clock, we see the prisoner, probably at exercise or in his cell. Then we ask for his age, height and weight and in the evening we make out his drop.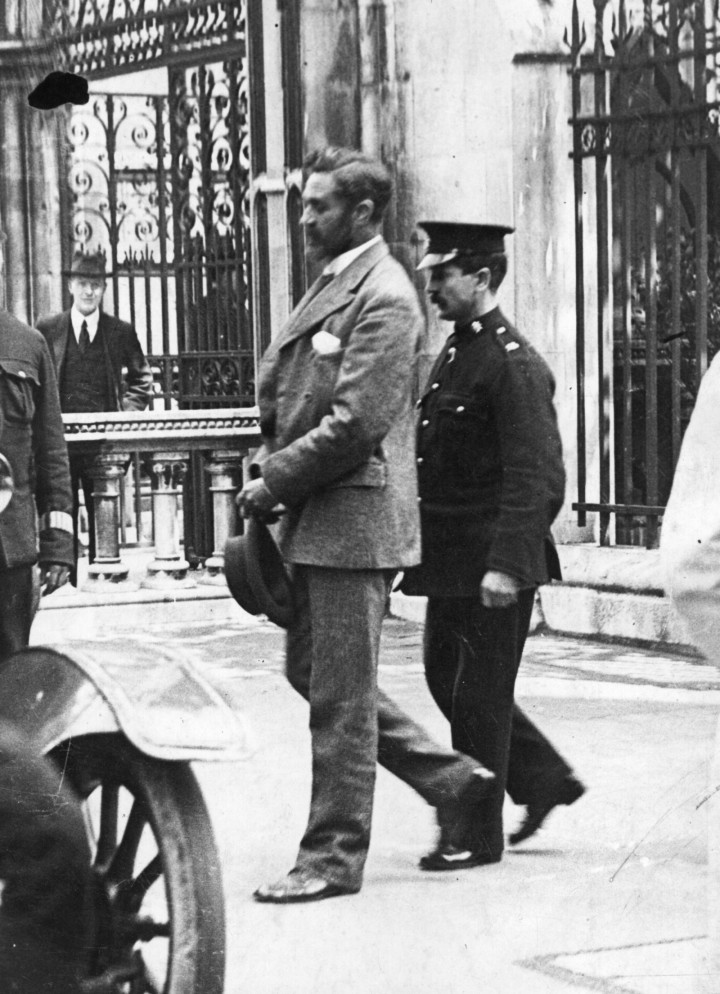 "Every person has a different drop. That is all for the first day. Then in the morning at 7 o'clock you go to the execution chamber again and get all ready, make the final arrangements for the job itself. Then we finish there about half an hour before the execution is going to take place, and that is all there is to it."
Pierrepoint was then asked if he sees the prisoner, without the prisoner knowing he is there: "Definitely. We see him through a spy-hole, or we look through the window when he has his exercise."
Explaining why he asks about the prisoners' age, he added: "We have to have his age. If you get a person of say, 24 years of age, he weighs 9 stone; you might get a man of 65 years of age and weighs 9 stone, but the man of 65 has feeble muscles and the young fellow of 24 might have a strong, powerful muscular body; and we have to allow for that, so as to have it perfect and instantaneous ... More inches [are needed] on the drop for a stronger man."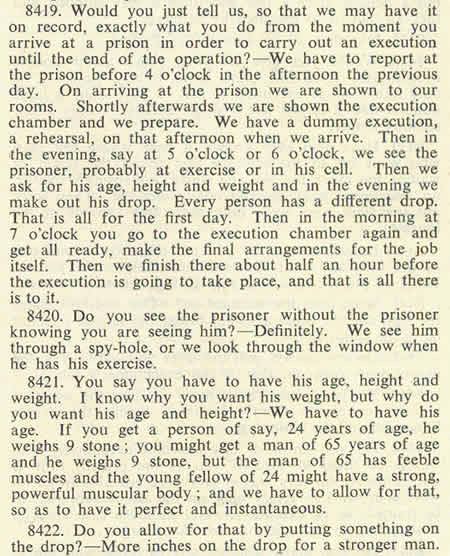 In the hours before an execution, prisoners would be accompanied by guards. Hangings normally took place in the morning, at 8 or 9am. They would enter the execution room, where their arms would be strapped behind the back. A hood would normally be placed over their heads.
They would then be led to the gallows, where the noose would be placed around their neck. The calculated drop meant prisoners would be dead within seconds – the fall breaking their neck.
Pierrepoint resigned as hangman in 1956, eight years before Gwynne Evans and Peter Allen would become the last men to be executed in Britain. Following his departure from HM Prison Service, he wrote his memoirs, Executioner Pierrepoint: An Autobiography, in which he famously said he was against capital punishment.
"I have come to the conclusion that executions solve nothing, and are only an antiquated relic of a primitive desire for revenge which takes the easy way and hands over the responsibility for revenge to other people ...The trouble with the death penalty has always been that nobody wanted it for everybody, but everybody differed about who should get off."