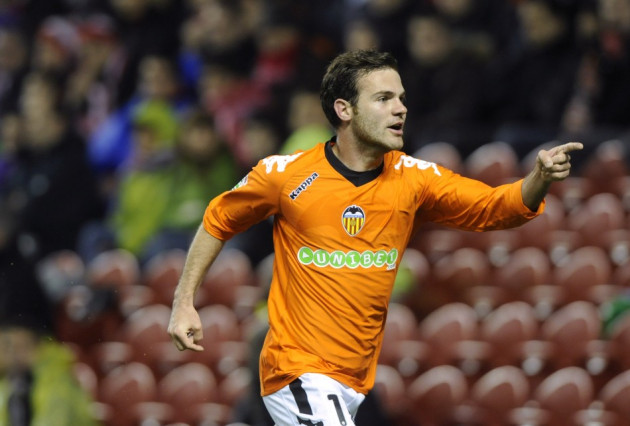 The pick of today's Premier League, Serie A, La Liga and Bundesliga football transfer rumours, news and gossip for 6 July 2011. Any transfer gossip surrounding Manchester United, Chelsea, Arsenal, Liverpool, Manchester City, Bayern Munich, AC Milan, Inter Milan, Juventus, Roma, Barcelona and Real Madrid will be covered here.
Premier League
What would this column do without Arsenal and Manchester City? Even on the most uninspiring mornings, when the empty transfer rumours of past summers are rattling around the cupboard, you can always rely on finding a couple of lines about the "Arsenal Exodus" or "City Eye £50m bid for [insert high-profile European club]", lying amidst the dregs and cast-offs of lesser transfer tat.
And today is no different. Arsenal, for example, are ready to tell Samir Nasri he is "going nowhere", according to the Mirror. With Cesc Fabregas set to seal his "dream move" to Barcelona, high-minded aesthete Arsene Wenger is prepared to let Nasri leave for nothing next summer rather than sell the diminutive Frenchman for £25m to one of Manchester United, Inter Milan or Manchester City. Seems unlikely but who are we to judge?
Meanwhile, Wenger is considering signing the first decent English player of his 15-year Arsenal tenure with a cheeky punt on Everton left-back Leighton Baines, according to unconfirmed reports.
In a series of blistering 'EXCLUSIVES' published in every other newspaper this morning, the Daily Mirror reports that Manchester City are willing to sell Carlos Tevez - but only if someone pays £50m for the want-away striker. The sprightly Argentine wants to leave Manchester to be closer to his daughters who live in Argentina. So naturally, Tevez has been linked with a move to Buenos Aires suburbs Madrid, Milan and Chelsea....wait a minute.
Who will Mancini bring in to replace Tevez? The Daily Star reckons it has the answer and has helpfully rounded up all this summer's interminable transfer tat in one ready-to-go grab-bag. The paper reckons Mancini will bring in a combination ofDidier Drogba, David Villa and/or Sergio Aguero for varyingly large amounts of cash.
Talking of cash-rich clubs, Porto striker Falcao has "paved the way" for a move Chelsea after he revealed he would "love to play in the Premier League next season", according to Talksport. Liverpool, meanwhile, are "weighing up" a move for Valencia's wing-sensation Juan Mata after having a £15m bid for Aston Villa midfielder Stewart Downing rejected. Hold on, Stewart Downing is worth £15m?
Down the East Lancs Road at Old Trafford, Manchester United are once again linked with Inter Milan's £35m midfielder Wesley Sneijder after the Italian giants admitted they need to sell before they can buy this summer. If that fails, Sir Alex Ferguson's Plan B involves a scrawled up note in his back pocket that has Bayern Munich's phone number written alongside the words "Bastian Schweinsteiger" and "£30m".
La Liga
AC Milan forward Alexandre Pato is on a list of alternative options in case Barcelona can't sign Udinese attacker Alexis Sanchez. But if neither of those two players arrives at Camp Nou then at least the club can console themselves that they still have Pedro, right? The skittish winger recently signed a new contract at that keeps him at Camp Nou until 2016 and increases his buyout clause from €90m to €150m.
Bojan, the only home-grown Barca player who isn't actually that good, is remaining cagey about his future, "This is a bittersweet feeling, reaching this point is not easy, but someday it would have to happen," he told the Spanish press.
''I feel privileged for all I have done at the age of 20, for breaking through Barca's youth ranks and for all I have left to do. I have not spoken with Luis Enrique, but I know he is interested in me and it is an honor there are teams interested in my services."
Cesc Fabregas....Barcelona....hold on, did we tell you that one already?
Having sealed the transfer of Fabio Coentrao for €30m, Real Madrid will turn their attention to Asamoah Gyan, according to the Daily Mail. The wantaway Ghanaian is also wanted by Tottenham and Fiorentina, which seem more likely destinations.
Serie A
Inter Milan director Marco Branca has issued a firm 'hands off' to Real Madrid over their pursuit of Brazil defender Maicon, "We have no intention of selling our big players. Maicon will be staying as we expect no big offers to arrive," Branca told Sky Sport Italia.
Meanwhile,Juventus are readying a €21 million bid for Bayer Leverkusen midfielder Arturo Vidal, sports daily Triunfo suggests. The Turin outfit are also keen on lumbering Chelsea midfielder John Mikel Obi, who would cost £15m.