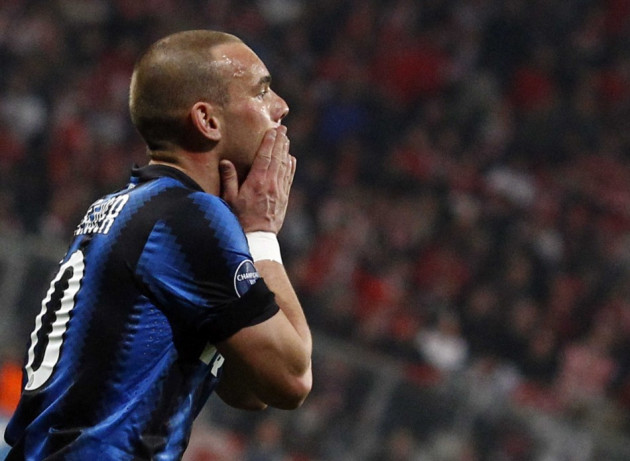 The pick of today's Premier League, Serie A, La Liga and Bundesliga football transfer rumours, news and gossip for 7 July 2011. Any transfer news surrounding Manchester United, Chelsea, Arsenal, Liverpool, Manchester City, Bayern Munich, AC Milan, Inter Milan, Juventus, Roma, Barcelona and Real Madrid will be covered here.
Premier League
Contrary to what idle speculation would have you believe, the transfer-rumours trade is not all canapés and cocktails, expense accounts and Old Fashioned's before noon. Oh no. After all, those nuggets of idle speculation won't cut themselves out of assorted sources and arrive here on their own -- although that is literally the dream. So it's on wet and miserable mornings like this that we really earn our keep, it's not all about the extra-curricular entertainment after all.
Starting with the Daily Mail, Arsene Wenger's summer of discontent looks likely to continue, with Tottenham set to up their effort to beat Arsenal to Spain Under-21 star Juan Mata. Valencia willing to sell the winger for £21m, almost exactly the amount Spurs will receive when Luka Modric jumps ship.
Karim Benzema is exactly the sort-of player you could be forgiven for thinking Arsenal already own -- young, French, lightning quick, capable of the outrageous, the ridiculous and the sublime (usually all at the same time) -- so it's little surprise to hear that the Gunners will launch a £27m move for the Real Madrid striker in an attempt to offset the likely loss of midfielders Cesc Fabregas and Samir Nasri.
Meanwhile, Barcelona are prepared to stand off to the side at Cesc Fabregas' Arsenal leaving party, acting nonchalant and pretending to text more interesting people as they play the "waiting game" over Cesc's inevitable transfer. "We have the best team in the world so we can afford to be patient," club vice-president Josep Bartomeu said while adjusting his hair and scanning the room for other people to talk to, "There is no rush, we have until the last moment."
In the Mirror, Sir Alex Ferguson has been given the 'green light' to drive in a reckless manner down to Milan with £35m in his back pocket to persuade Internazionale to sell Wesley Sneijder. Inter's signing of Ricardo Alvarez indicates the club are ready to offload Sneijder, apparently, and they are willing to countenance a sale to fund further transfers. United are also interested in Toulouse forward Moussa Sissoko but could be scuppered by Arsenal who are also, rather predictably, linked with the young Frenchman according to talkSPORT.
In today's Ealing Gazette (yes, really), Chelsea have turned their attention to Palermo midfielder Javier Pastore after missing out on Sneijder. But the Blues won't be buying Sergio Aguero after all (really?) as Manchester City are in advanced talks with the Argentine, according to the Sun.
After Charlie Adam became the 17th central midfielder to join Liverpool this summer, Kenny Dalglish will today look to address the issue of signing an actual winger by bidding for Lyon's Michel Bastos; but only if the club miss out on Aston Villa's Stewart Downing.
La Liga
With flip-flopping Santos striker Neymar's future still undecided, the player's agent Wagner Ribeiro has earned his day's 10 per cent with another vague, inevitably meaningless remark, "Real Madrid and Barcelona told Santos they're willing to pay the buy-out clause and made us an offer too. "We'll discuss it with the player after the Copa America but he wants to stay and play the Club World Cup." Nothing we didn't already know then.
Barcelona are said to be interested in Newcastle United defender Jose Enrique -- according to reports in Catalonia. While Gazzetta dello Sport claim the club may be able to finally resolve the Alexis Sanchez transfer by offering Jonathan Dos Santos to Udinese as a part-exchange. But the Catalan club won't sell Bojan to Roma till they get Sanchez.
Meanwhile, Goal.com Italia claims Inter will accept a €20 million offer from Real Madrid for Brazil right-back Maicon.
Serie A
In Corriere Della Sport, Tiago Motta's agent claims there is no chance of him leaving Inter Milan this summer, quashing rumours linking the player to Arsenal. Carlos Tevez could be heading to Italy, according to his international team-mate Javier Zanetti. "Carlos is the kind of player any football club would want to have on their team," Zanetti said.
Meanwhile, immortal Lille chairman Michel Seydoux has repeated that Eden Hazard is going nowhere saying, "We are not going to talk about this for 175 years. I get the impression not even Eden knows about all that is said and written about him."
In Turin, Juventus have enquired about Villarreal striker Giuseppe Rossi, according to the player's agent. Federico Pastorello told Studio Sport, "Juventus have asked for information and this is normal as Giuseppe is a top player, but I cannot confirm that Juventus want him. In fact, the only thing that is certain today is that Rossi has a five-year contract with Villarreal which he signed with satisfaction in February."
Finally, Roma have won the race to sign River Plate's Erik Lamela, according to Sky Sport Italia. The highly-rated teenager cost €12 million and has signed a five-year deal that will see him earn €1.5m a year. Nice work if you can get it.