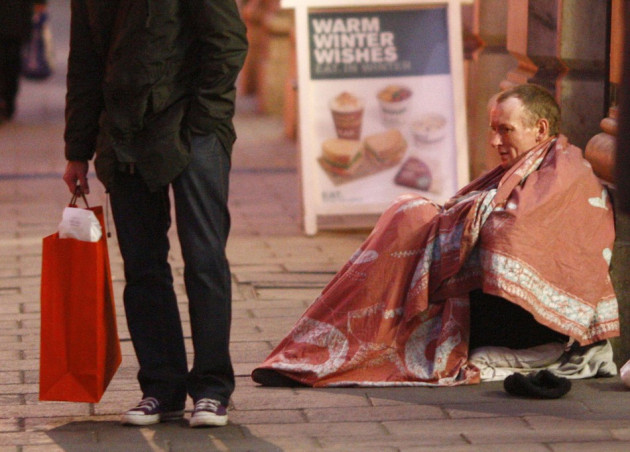 Nearly 70,000 children in the UK are set to wake up on Christmas morning homeless in temporary accommodation, according to a new report.
The government figures highlighted by the housing and homeless charity Shelter reveal there are currently 69,846 children in England living in temporary accommodation such as hostels, bed and breakfasts and refuges.
According to Shelter, someone in Britain faces losing their home every two minutes, with factors such as illness or a job loss beginning the downward spiral into homelessness.
"It's simply not right that in an affluent nation like ours, thousands of children will wake up on Christmas Day wanting nothing more than a permanent roof over their head," said Kay Boycott, Shelter's Director of Communications, Policy and Campaigns.
"We cannot underestimate the damage homelessness has on children's lives. They often miss out on vital schooling because they are shunted from place to place and many become ill by the poor conditions they are forced to live in.
"At Shelter we know only too well that being made homeless can have a devastating impact on children for years to come and yet many more could face this trauma in the coming months. That's why we will be doing all we can to help homeless families this Christmas and beyond."
While these figures are shocking at first, the numbers have improved since 2007, when there were more than 112,000 homeless children in the UK.
The numbers of children in temporary accommodation has been steadily declining over the past few years, with the number hitting 99,000 in 2008 and falling further still to 78,000 in 2009, according to data supplied by the Department for Communities and Local Government.
This report follows one released by the charity Crisis, which reveal that homeless people die 30 years younger than the national average of 77.
The research show that drug and alcohol abuse account for a third of all deaths among the homeless. They are also nine times more likely to commit suicide and three times more likely to three times more likely to be killed in a traffic accident, according to the report.
"The plight of homeless people should be on our minds all year round - not just at Christmas," said Housing Minister Grant Shapps.
We're fortunate to have some of the toughest laws in the world to prevent people from ending up on our streets, and while homelessness remains lower than in 28 of the last 30 years I'm always anxious to do more.
"That's why I'm announcing £20m of new funding which, for the first time, will specifically help single homeless people, who all too often slip through the safety net. This money will be used to help prevent homelessness at an earlier stage."