An Australian warship has seized 450 kilogrammes of heroin worth £78m ($125m) from a Somali pirates' boat, nulifying funds destined for al-Qaida.
According to news agency AFP, HMAS Darwin was patrolling the Indian Ocean some 40 nautical miles off Somalia's east coast, when it intercepted the suspicious haul.
The drugs were hidden in 20 bags, each weighing between 20 to 25 kg each.
The ship's commander Terry Morrison said the seizure "removed a major source of funding for terrorist and criminal networks which included al-Qaida, the Taliban and Al-Shabaab.
"Due to the hard work of many previous ships deploying to this region, we have been very successful in intercepting illegal narcotics smuggling," he continued.
"I am very proud of the hard work and determination of the ship's company in HMAS Darwin during a particularly long and challenging interdiction."
HMAS Darwin is part of Combined Maritime Forces (CMF) and conducts counter-terrorism and security operation in the North Arabian Sea and Indian Ocean.
Major General Craig Orme, told the Navy Daily that Australia's commitment to the CMF contributed to the Indian Ocean's security.
"HMAS Darwin has made a considerable impact on the drug smuggling networks operating in the Indian Ocean. This is an excellent outcome and highlights the good work being conducted by ADF (Australian Defence Force) members on Operation Slipper," Orme said.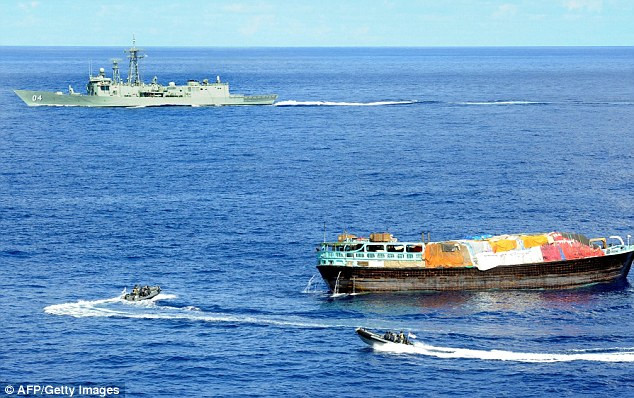 Commodore Jeremy Blunden of the Royal Navy, said the drug haul was the CMF's seventh significant seizure in 2014.
"The interception of heroin traffic is an important part of the work of the CMF as some of the profit from the trafficking of heroin goes to extremist and terrorist organisations."
Somali pirates have been a threat to international shipping for several years.
The pirates, who came onto the scene during the Somali civil war in the early 2000s, impede the delivery of shipments resulting in increased expenses.
A United Nations report suggested that piracy off the coast of Somalia was caused in part by illegal fishing, as the dumping of toxic waste in the sea impeded local fishermen to earn a living with their work.
As a result, dozens of fishermen formed armed groups to hijack commercial vessels for ransom as an alternative source of income.