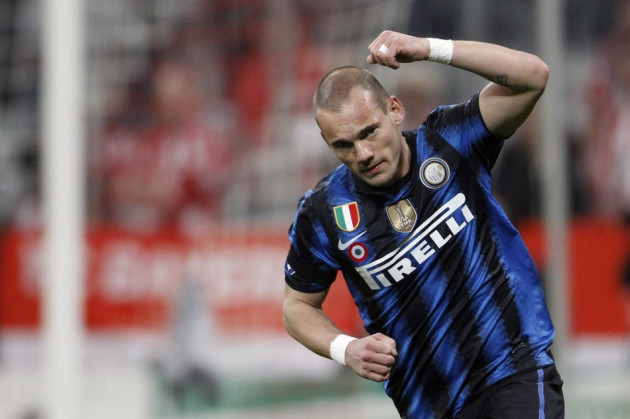 The pick of today's Premier League, Serie A, La Liga and Bundesliga football transfer rumours, news and gossip for 8 August, 2011. All the latest transfer rumours surrounding Man Utd, Chelsea, Arsenal, Liverpool, Tottenham Hotspur, Manchester City, Bayern Munich, AC Milan, Inter Milan, Juventus, Roma, Barcelona and Real Madrid will be covered here.
Premier League
With Arsenal refusing to concede ground on their £40m valuation of Cesc Fabregas, Arsene Wenger will this week reject Barcelona's £35m bid for the Spain international in the hope of retaining his unsettled captain. There is one sliver of good news for Wenger though, as the Frenchman looks set to complete the signing of £12-rated Alex Oxlade-Chamberlain from Southampton in the next 48 hours.
Wenger is still interested in Bolton's Gary Cahill but manager Owen Coyle reckons the England international is staying put: "It is very much the status quo, carrying on where we have before. But we try to be fair to Gary, if there is something positive there for him, then great, I will let him know. If it's not, he has to be allowed to focus and concentrate on his career at Bolton, where he has been outstanding and will continue to be until that was to change."
After tying up the transfer of Anderlecht's Romelu Lukaku, Chelsea will head back to White Hart Lane with £30m and make off with Luka Modric this week, according to Sky Sports. In other news pertaining to tricksy trequartistas, Manchester United target Wesley Sneijder says he will leave Inter Milan if the right offer arrives.
"All I know is that Inter need money and that I'm for sale if the right offer comes in," he told Voetball International. "I have five days off after the international friendly against England on Wednesday. I expect clarity on my future by then. I can be very brief about the interest from Manchester United and City: I haven't spoken with either of those two clubs, so I can't really say much about my future at the moment."
But Manchester City manager Roberto Mancini is not interested in signing the Dutch international, saying: "No, it is not true. He is an Inter Milan player. We never spoke about him.''
Meanwhile, Tottenham's pursuit of a new striker has led them to 25-year-old Costa Rican international Bryan Ruiz, who plays for FC Twente.
La Liga
Victor Valdes has become the latest in a seemingly endless parade of Barcelona players who feel the need to extol the virtues of Arsenal captain Cesc Fabregas on an almost daily basis. Valdes told the People: "We expect to see Cesc in the Barca dressing room soon. The players want him to come because he is a big friend and an extraordinary footballer."
Talking of tediously repetitious transfer news, Marca claim that Real Madrid will sign Neymar in January. The 19-year-old will reportedly.....in January....after the Club World Cup.
Serie A
German international Andreas Beck looks set to stay in Germany, quashing speculation over a possible move to Juventus. "I am in talks with Hoffenheim about a new contract, I am very positive on this," the defender told Sportinformationsdienst. "The proposed transfer to Juventus is off, as far as I am concerned. I am not looking to move on, I do not spare a thought about movign to another club. My focus is to begin the season well with Hoffenheim."
Finally, Lazio director Igli Tare is unsure where Tottenham target Mauro Zarate will be next season: "Zarate's future? We'll see what happens. He is an important player for Lazio and is putting in a lot of effort."