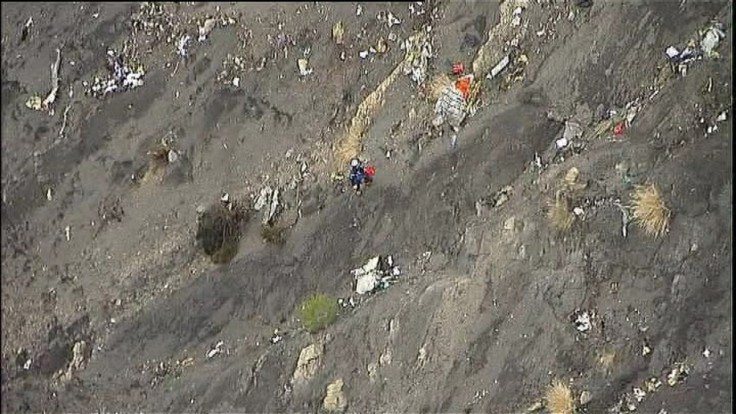 Another Germanwings flight has been cancelled on Wednesday after pilots and cabin crew refused to fly following yesterday's plane crash in the French Alps.
Flight 4U 9525 from Barcelona to Dusseldorf crashed on Tuesday, killing all 150 people on board including babies and children, 40 minutes after take-off.
Tensions are still high as crews are refusing to fly due to "emotional distress" connected with yesterday's crash.
In a statement by Germanwings, it said flights would be operating according to schedule except for the cancellation of one flight.
"Due to emotional distress, some crew members are also unfit for service today. Germanwings understands these circumstances, as crew members have lost beloved colleagues in the incident.
"Today, Germanwings operates eleven aircraft, predominantly from other airlines like Lufthansa, Air Berlin and TuiFly on approximately 40 flights."
In eight minutes the Airbus 320 dived from a cruising altitude of 38,000ft to 6,8000ft, near Digne, before it hit the mountainside. Debris from plane wreckage has been found scattered along the ravine. No survivors have been found.
Hamburg aviation expert Heinrich Großbongardt told HuffPost Germany for an accident to happen at cruising altitude was "very unusual" and believed the flight suffered a "serious technical problem".
According to an unverified report in Der Spiegel magazine, the jet had been grounded 24 hours before it took off on Tuesday due to a landing-gear issue.
But a Germanwings spokesman told the Guardian it was not a safety issue and after it was investigated the plane was "cleared to fly again".
"It was only a problem with the nose landing gear door, so just the door in front of the nose landing gear, and it had to be repaired not for safety reasons but for acoustic reasons," he said.
The first black box recovered from the crash site has now arrived in Paris for testing, Alain Vidalies, France's state secretary for transport, told Europe 1. He said that if voices have been recorded by the device, the answers about what happened to the airbus could be available soon.
45 Spanish and 67 Germans including two babies were on board the flight. 16 pupils and two teachers from Joseph-Koenig School in Haltern were also confirmed to be among the victims.
Airbuses are normally seen as one of the safest planes in the sky but they have crashed 11 times, killing 1,000 people.