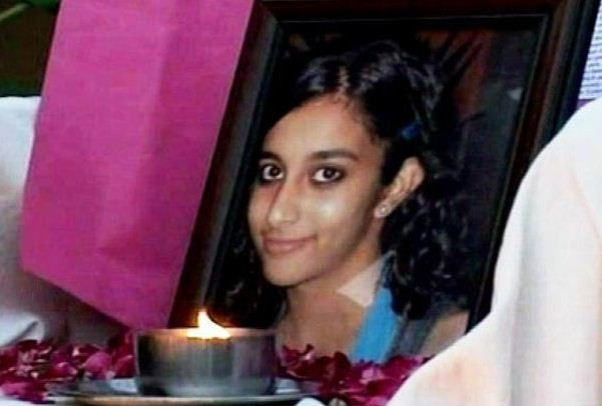 India's Central Bureau of Investigation (CBI) has concluded that the parents committed the crime in the 2008 double murder case in Noida, New Delhi. They apparently killed their daughter using a kitchen knife and a golf club. In what was India's biggest murder trail which garnered widespread media attention, the victim Aarushi's parents Rajesh and Nupur Talwar had allegedly dressed up the crime scene and destroyed evidence.
The CBI also added that the couple tried to influence the doctor who conducted the autopsy of the 14-year-old Aarushi. While the couple claim that they were asleep, the CBI argued that their home computer was on throughout the night and that they were giving a false claim.
Amongst other evidences, the CBI has also found blood stains on the staircase which were partially mopped and fingerprints from a whisky bottle.
Below is the timeline of the events in this sensational murder which baffled investigators.
May 16, 2008:14-year-old Aarushi Talwar-- daughter of dentist couple Rajesh and Nupur was found dead with her throat slit in the bedroom of her flat in Noida. Initially, domestic help Hemraj (Nepalese national) suspected of murder.
May 17:The body ofHemraj found on the terrace of Talwar residence.
May 22:Police conclude murders done with surgical precision, the parents suspected. Honour killing angle probed. The victim's friend to whom she had spoken to 655 times in 45 days preceding her murderprobed.
May 23: Rajesh Talwar arrested for both the murders.
February 2010: Rajesh and Nupur Talwar undergo narco-analysis test.
July 12: Rajesh Talwar given bail.
Dec 29: The CBI files a closure report in this case stating that the father, Rajesh Talwar is the main suspect but there was not enough evidence against him.
Feb 9, 2011: A special court orders that the parents be tried for Aarushi's murder. The couple also face allegations of destruction of evidence.
March 14, 2012: The CBI wants Rajesh Talwar's bail to be cancelled.