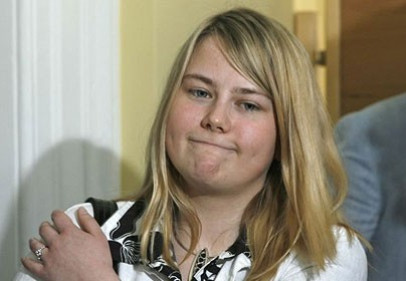 Natascha Kampusch, the woman who was abducted when she was 10 years old, has finally revealed that she was raped by her kidnapper Wolfgang Priklopil during the eight-and-a-half years he held her captive.
Kampusch, who had always refused to speak about the private details of what happened to her during her imprisonment in a cellar beneath Priklopils' house in Strasshof, Austria, made the admission during a television interview in Germany on her 25th birthday - ahead of the release of the film 3,096 Days.
The film, which premieres in the Austrian capital Vienna, is based on her memoir which takes its name from the number of days spent in captivity. It tells the story of her life as a prisoner before she escaped in August 2006.
In disturbing scenes now added to the film Priklopil is shown taking Kampusch, played by Northern Irish actor Antonia Campbell-Hughes, out of the cellar he constructed beneath his house near Vienna and raping her.
She told talkshow host Günter Jauch that she had agreed to show the assaults in the film after police evidence reached the public domain.
"I'm trying to commit to each day positively, to process what is happening to me," she told him.
"That I was a child when it happened really helped me. As a child you are still naive and believe in justice."
Kampusch said she was intellectually superior to Priklopil, who killed himself by lying down in front of a train shortly after her escape.
She believes that the Austrian communications technician was desperate for love when he kidnapped her on her way to school in March 1998 and his plan was to groom her until she fell in love with him.
"The more information I learned about him, the more I could see through his intentions," she said.
"I can never do the carefree youth thing. What helps me is talking with other other people who share their experiences of youth with me."