A Zimbabwean pro-democracy campaigner has warned that social movement activist and cleric Evan Mawarire may become victim of the country's "subverted" legal system when he is expected to appear in court today (3 February).
Pastor Evan Mawarire, the face of Zimbabwe's #ThisFlag protest campaign, who was detained at Harare airport on 1 February as he returned to the country after six months in exile, was detained at Harare Central Police Station. He was then handed fresh charges of "insulting" the Zimbabwean national flag, inciting public violence and subverting a constitutionally-elected government.
The priest is expected to appear in court this afternoon, as he reaches the expiry of the 48-hour police custody period limit.
IBTimes UK spoke to human rights and democracy activist Linda Masarira, who says she has herself been repeatedly dragged through courts over trumped up charges, ahead of Mawarire's court appearance. Speaking outside the Harare Magistrates Court, Masarira, said supporters have been told there was no time set for the priest's appearance in court. "Authorities said prisons were not bringing people to court today because they have no fuel," she said.
"How did we get to a stage where a government organisation - prisons – is not sure to take prisoners to court? That is an infringement of prisoners' rights, of their freedom of liberty. You are innocent until proven guilty," Masarira said in an exclusive interview.
Under Zimbabwean law, the court is supposed to give the detainee bail, but the activist said she was "scared" magistrates would "find a reason not to give him bail", suggesting court may deny the clergyman bail because of fears over his influence.
"I actually pray that they give him bail, but I know that even if they do, it will be so exorbitant. Remember, in June, when they gave bail for $1,000? In a country where there is no jobs, where is one supposed to get $1,000 from?"
The activist, who many describe as President Robert Mugabe's nemesis, was released in late September after she was incarcerated on 6 July over her participation in anti-government demonstrations that rocked the African nation.
Masarira was arrested again in October last year alongside four other activists including Dzamara Patson, whose brother Itai, a journalist turned activist, has been missing since his abduction on 9 March 2015.
"The problem that we have had for a very long time in Zimbabwe is the absolute absence of the rule of law. We have Zanu-PF [Mugabe's ruling party] in our courts and magistrates being told what to do. They can not make their own decisions."
Zanu-PF party, which has been in power since the country gained independence from the UK in 1980, is accused of having repeatedly repressed political opponents and allegedly carrying out mass atrocities against civilians to consolidate power.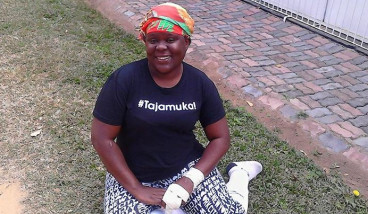 In this environment, "no one really knows what the outcome [for Mawarire] will be but the Zanu-PF is harassing and abusing the Pastor and trying to suppress his freedom," Masarira said.
"I foresee them incarcerating him, because why would they come up with the charges of subverting a constitutional government, which carries a sentence of 20 years? They are just trying to frustrate people and quell [protests that they see as] a problem in Zimbabwe.
She added: "When [the people] find that someone who has been trying to protest – a protest leader to be precise – has been charged for 20 years, naturally people will go back to their homes and stop protesting for fear of being arrested. That's what happened to me."
Police officers, who charged the clergyman yesterday, claim Mawarire circulated several videos on social media encouraging Zimbabweans "to stage violent demonstrations to subvert the constitutional government of Zimbabwe and resultantly from August 2016 to January 2017 there have been violent demonstrations in the country where several property was destroyed."