As the 2018 general election close in, Zimbabwe is entering a period of acute risk of mass atrocities. These risks would only heighten should President Robert Mugabe die or become severely incapacitated before the elections, an activist organisation has warned.
Zimbabwe's ruling Zanu-PF party, which has been in power since the country gained independence from the UK in 1980, has repeatedly repressed political opponents and is accused of using mass atrocities against civilians to consolidate power.
Historical papers have implicated Mugabe in orchestrating the 1980s Gukurahundi killings of an estimated 20,000 in Matabeleland for political gain.
Some 700,000 people were directly affected by the regime's 2008 Murambatsvina campaign through loss of property, homes or livelihood. In total, an estimated 2.4 million people were indirectly affected by the mass evictions.
In this context, the Simon-Skjodt Center for the Prevention of Genocide of the United States Holocaust Memorial Museum in Washington DC has warned the country faces the potential risk of new mass atrocities. In its latest report, the organisation outlines two scenarios that could lead to large-scale and systematic violence against civilian populations.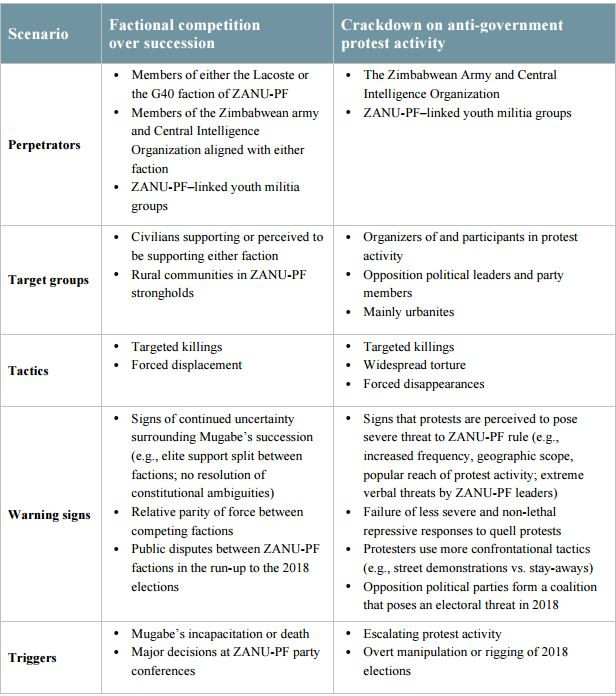 Sometime in the next few years, Zimbabwe will experience a momentous political change. The country has known only one leader since independence and Mugabe is now 92-years-old. Competition for his looming succession among Zanu-PF two factions has grown more intense.
In the first case, factional fights within Mugabe's Zanu-PF could escalate into open violence, with elements of the military, party youth groups and militias targeting civilian supporters of competing factions.
A bitter political battle already rages between the First Lady Grace Mugabe, who leads the G40, and Vice-President Emmerson Mnangagwa's faction Team Lacoste, which is backed by the war veterans.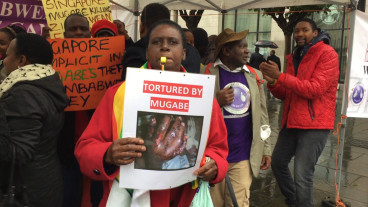 Africa's ailing oldest head of statefaces a real threat of split within the armed forces, which have had a critical role in politics since the independence war against the white-minority state of Rhodesia.
This could endanger the cohesion of Mugabe's power base within Zanu-PF, but General Constantine Chiwenga, the commander of Zimbabwe Defence forces (ZDF), in August vowed his forces will stand "unequivocally" by the embattled president.
"In the past we have always underestimated the determination of the military in particular to hold on to power. The division between the military hierarchy and Zanu-PF hierarchy has always been very difficult to differentiate," former Minister David Coltart told IBTimes UK.
Mass atrocities may also stem from increasingly threatening anti-government protest activity that could lead to a sharp escalation in killings, torture, and politically motivated violence by government security forces, informal militia, or both against a widening circle of people associated with the protests.
This follows claims that Zanu-PF has been carrying out politically-motivated violence ahead of the 2018 general elections.
"International, regional, and local actors with influence in Zimbabwe should immediately develop and implement comprehensive, flexible strategies to help prevent mass atrocities," the Simon-Skjodt Center for the Prevention of Genocide said in its report. Other analysts, by contrast, have emphasised that mass violence is a more remote possibility.