Activist groups shut down Israeli arms factory in Kent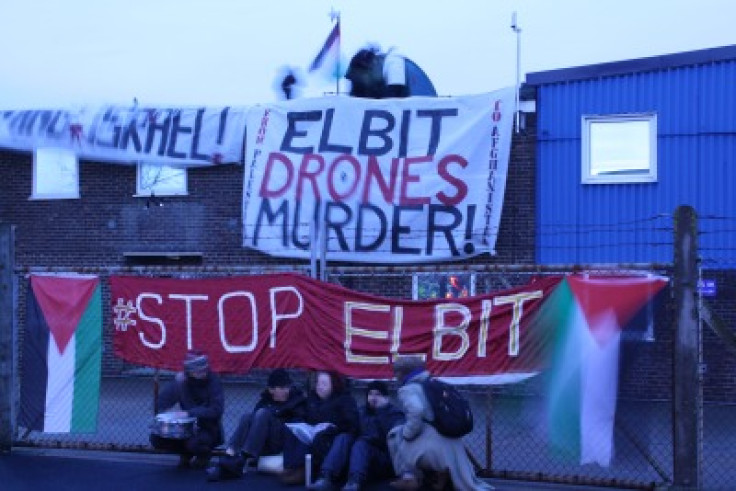 Pro-Palestine activists have shut down a factory in Kent owned by an Israeli arms company because it helps build drones used in the recent Gaza crisis.
Members of several protest groups scaled the roof of the Instro Precision building in Broadstairs and hung banners protesting the company's involvement in the killing of Palestinians.
Instro is owned by Israel's largest weapons company, Elbit Systems, which the group claims is responsible for manufacturing drones used to kill Palestinians during the Gaza strip crisis.
Several more demonstrators are also on the ground, including one who is chained to the fence.
Instro's website describes the company as "one of the leading suppliers and system integrators of support equipment for military and commercial electro-optical sensors in the world".
"Instro products have been proven in forward observation, surveillance and reconnaissance missions by the military, paramilitary and civilian customers of more than 50 countries," it states.
According to research group Corporate watch, 85% of drones used by the Israeli military are manufactured by Elbit.
The factory, which employs around 70 people, has been closed since the protest began early this morning.
Those involved in the demonstration include members from Brighton BDS, Brighton Palestine Action, Smash EDO, Stop NATO Cymru, Anarchist Action Network, East Kent CAAT and Swansea Action for Palestine.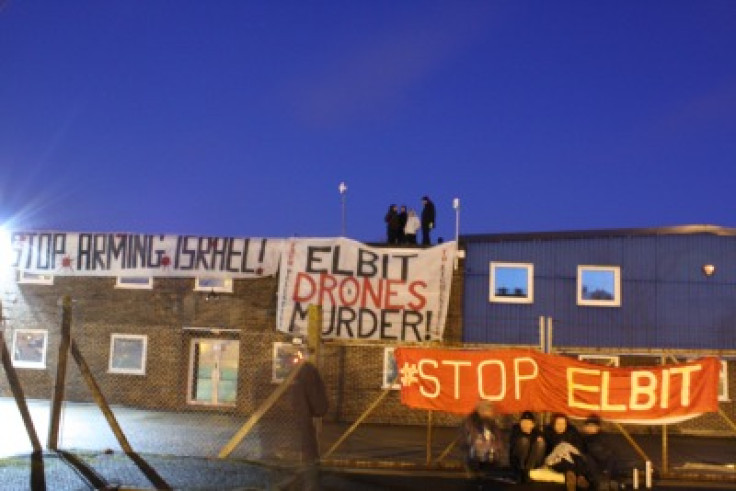 The demonstration is similar to one staged by London Palestine Action when they "occupied" an Elbit factory last August in Staffordshire.
Nine people were arrested after the group protested on the roof and members chained themselves to the doors of the UAV Engines Limited factory in Shenstone.
Tom Anderson, one of the activists at the Instro protest, said: "We are here because we want to stop Elbit from supplying weapons which are used to massacre people in Gaza and Afghanistan.
"In 2013 I visited Gaza and spoke to the survivors of Israeli drone strikes. They told me that they wanted people to take action to prevent the companies that manufactured the drones that killed their loved ones from making equipment that will cause others to suffer the way they have."
Protester Lucy Marshall added: "Optical and camera systems like those manufactured at Instro Precision are supplied by Elbit for use on drones and also for camera systems on the apartheid wall.
"We are here to take action to prevent Israel from continuing its oppression and apartheid against the Palestinians."
A Kent police spokesperson said: "Kent Police is currently monitoring a reported protest taking place at the Pysons Road Industrial Estate in Broadstairs.
"As with all such events, the primary role of Kent Police is to facilitate peaceful protest, which is lawful, whilst also ensuring public safety and minimising any disruption. Resources will be deployed as necessary and appropriate."
IBTimes UK is awaiting comment from Instro.
Correction: The article previously stated London Palestine Action were involved the protests. This has since been amended.
© Copyright IBTimes 2023. All rights reserved.