Gaza Strip Crisis: Israel and Hamas Agree to Three-Day Ceasefire in Gaza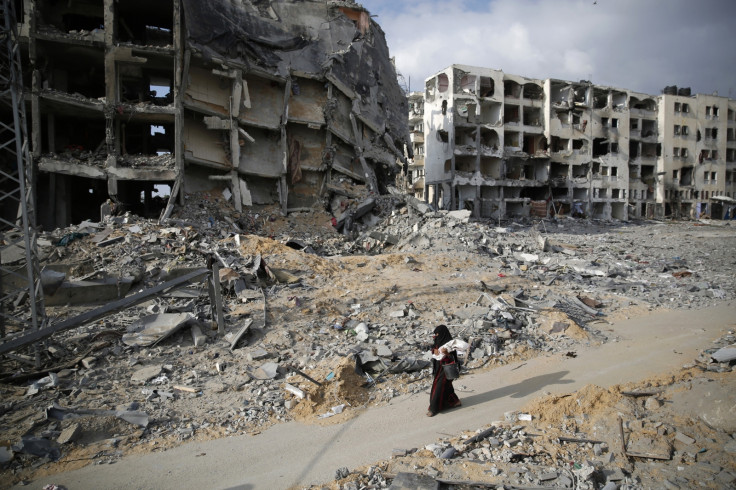 Israel and Hamas have agreed to a new three-day ceasefire in Gaza.
The truce is scheduled to begin on Tuesday (4 August) morning at 5am GMT.
Reports of the latest ceasefire come after three days of negotiations in Cairo, attended by a Palestinian delegation, but shunned by Israel.
An Israeli diplomatic official confirmed the reports saying: "We agree to begin implementing the Egyptian initiative. If the ceasefire is held there will be no need for any presence of (Israeli) forces in the Gaza Strip.
"Israel will accept the draft of the Egyptian proposal for an unconditional ceasefire, without preconditions and for 72 hours."
Sami Abu Zuhri, a spokesman for Hamas, which controls Gaza, told Reuters news agency: "Hamas told Egypt a short while ago of its acceptance of a 72-hour period of calm."
A senior Egyptian official told AFP news agency: "Egypt's contacts with relevant parties have achieved a commitment for a 72-hour truce in Gaza."
The new agreement proposes that delegations from all sides attend further talks in Cairo.
The news has been received by officials "with a certain amount of scepticism" after six previous ceasefire deals collapsed.
The militant wing of Hamas had earlier rejected a seven-hour humanitarian ceasefire declared by Israel, with both sides blaming each other for breaching the terms of the previous agreements.
Bassam Salhi, a member of the Palestinian delegation, said that while it is clear both sides want a ceasefire, forging a long-term agreement will prove more difficult.
"It's going to be tough negotiations because Israel has demands too," he said.
Earlier Israeli Prime Minister Benjamin Netanyahu vowed to keep up the military offensive in Gaza until long-term "quiet and security is established for the citizens of Israel".
Just minutes into a seven-hour partial truce, a young girl was killed in an Israeli airstrike on a refugee camp in Gaza City, and 15 other people, many of them women and children, were also injured during clashes today.
In Jerusalem, a construction vehicle driven by a man, identified by police as a Palestinian from east Jerusalem, overturned a bus in an ultra-Orthodox neighbourhood.
A passer-by was killed and several people were injured before police shot dead the driver.
The latest announcement follows widespread criticism over the Israeli attack on a UN-run school in Gaza which killed at least 10 Palestinians. UN Secretary General Ban Ki-moon has described the attack on the international body's facility as a "moral outrage and a criminal act".
© Copyright IBTimes 2023. All rights reserved.