Perhaps one of the most adored cult trainers, the Adidas Gazelle original has been a game-player in a number of trends and style tribes without ever becoming overexposed. Since their arrival in 1966 as an all-round training shoe, the simple suede design imprinted with golden logos has been an essential for everyone – from football fans in the 1970s to Britpop stars and American slackers in the 1990s.
The trainer itself has been elevated in status lately, no longer looking out of place in most offices. The shift in the daily uniform has allowed a boxfresh pair to become far more acceptable and the popularity of the likes of the Adidas Superstar, Puma Classics and Nike Cortez is proving that we are not bored of a classic; if anything, it is just what we want more of, and Adidas has listened.
In a continuation of the Nineties style resurgence we are currently in the midst of, Adidas Originals has announced that it is reissuing a 1991 version of the classic footwear model, which is guaranteed to become the essential footwear item for summer 2016.
This is the ultimate football terrace shoe in Britain, which remained popular throughout the 1970s and 1980s with football 'casuals' before its fashion resurgence in the 1990s, when it became a favourite of music lovers and street stylers alike.
From the vintage suede upper to serrated leather stripes, the sports brand has stayed true to the original design. While the first released images feature three colourways, it has been reported that there will be a total of 53 colourways released throughout the year.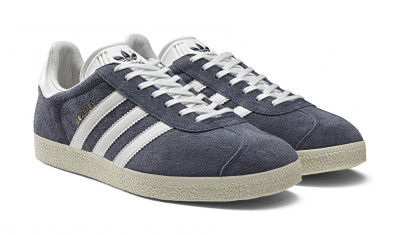 The Gazelle Vintage Suedes are part of Adidas Originals' AW16 collection, and will be available from Friday 3 June at selected store and online.