At the time of Prince's death, close friend Donatella Versace expressed much sadness at the singer's passing. During Milan Men's fashion week – at Versace's menswear S/S 17 show – the designer paid a fitting sartorial tribute to the star, dedicating the collection to him and his music.
Models stepped on to the catwalk draped in swathes of purple silks and Prince-style ruffled shirts which reflected the opulence and drama of the late musician and singer's work.
As a whole, the collection was a romantic mix of silks and cottons that flitted between loose layering and a tight, athletic aesthetic.
Draped parkas in forest greens were matched with wild prints, however the rich violet hues of Prince's signature style shone through.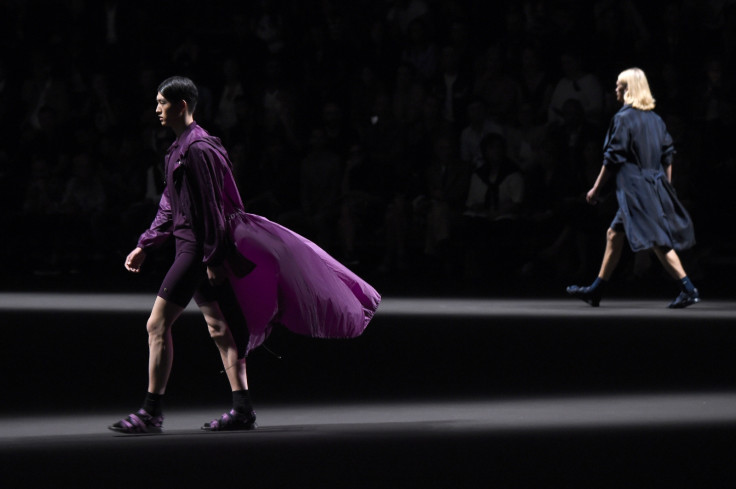 For Prince fans, the most exciting part of the show was the unreleased songs that Donatella played as part of the soundtrack.
Donatella had previously reminisced in Billboard of a time when Prince rented a nightclub for their sole enjoyment, and the S/S 17 show notes detailed how the music had been given to Donatella personally. "Donatella would like to use this special occasion as an opportunity to share this incredible music from a dear, and much-missed friend" they read.
Speaking to Billboard about the unheard tracks, Donatella recalled Prince's prolific back catalogue. "Prince was always writing and recording" she said "even if it was just a late-night jam at Paisley Park. He had been sending me songs for years – it was his way of communicating. Just hearing his voice again makes me smile."
While the singer's music was an influence on many, his relationship with clothing and fashion can never be overlooked – an element of his life that Donatella remembers fondly. "Prince showed men how they could use clothing to express themselves" she said to Billboard, "to make a statement, to be bold. He showed men to not take themselves so seriously, have fun and to love life while you can."
Donatella wrapped up the show by taking a bow in a vibrant purple silk-suit and romantic ruffled black-lace shirt with flamboyant collar /cuff trims, which would not have looked out of place in Prince's Paisley Park wardrobe.