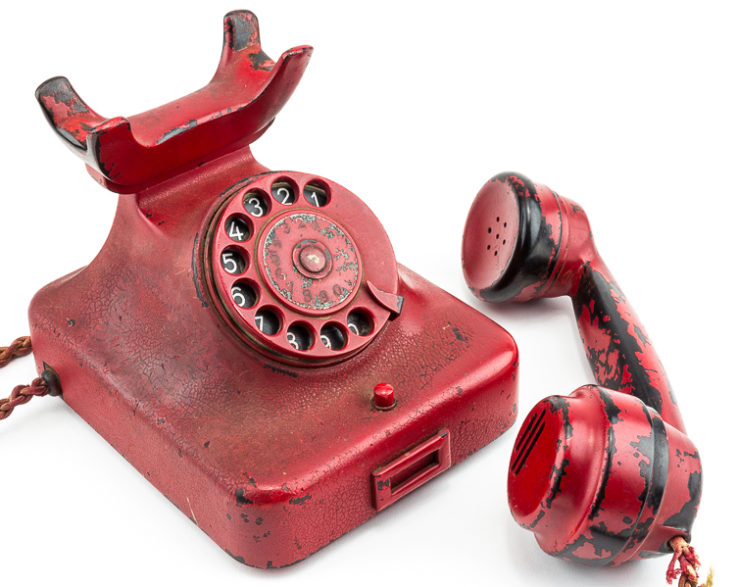 An engraved red telephone belonging to the Nazi leader Adolf Hitler was sold at auction on Sunday (19 February) in Maryland for $243,000 (£195,000). The rotary phone, engraved with a swastika, eagle and Hitler's name, was sold to an anonymous bidder after going under the hammer at Alexander Historical Auctions in Chesapeake City.
Bidding for the custom-fitted Siemens Model W38 started at $100,000. The phone had to be rotated before the handset could be lifted. This feature meant it could be brought along on journeys and be used on trains and in cars.
The piece of war memorabilia had been described as "arguably the most destructive weapon of all time, which sent millions to their deaths around the world.
"It would be impossible to find a more impactful relic than the primary tool used by the most evil man in history to annihilate countless innocents, lay waste to hundreds of thousands of square miles of land, and in the end, destroy his own country and people ... with effects that still menacingly reverberate today."
The phone was given to Brigadier Sir Ralph Rayner by Russian officers when he was sent to make contact with Russian troops who took over Berlin. Rayner brought the relic back to the UK hidden in his suitcase and kept it quiet, worried he might be accused of looting.
Following Rayner's death, the phone was passed on to his son, who put the piece up for auction in the hopes that it could go to a place where it could be displayed and its story further explored.