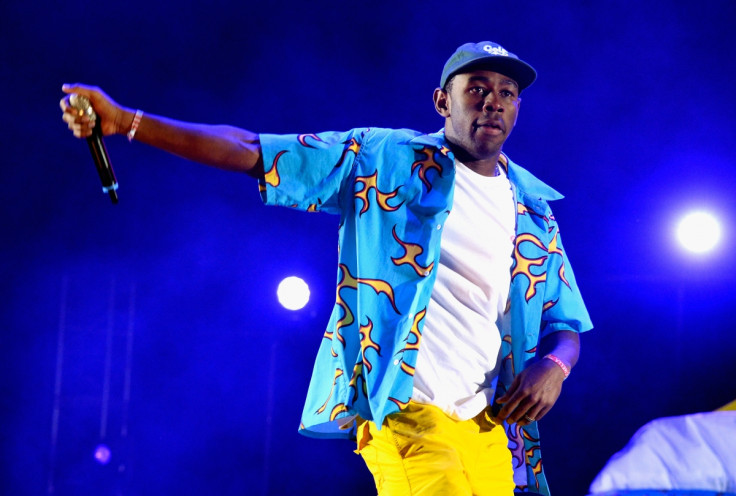 Tyler, The Creator has made his feelings on US presidential candidate Donald Trump very clear. The Odd Future rapper is selling T-shirts with the Republican's face daubed with an Adolf Hitler moustache. But not all fans are not impressed with the bold statement.
The rapper announced his new venture to fans via Twitter, revealing the merchandise will be made available through the Odd Future website Golf Wang on 11 April. Mockingly named Adolf Drumpf – a reference to his ancestors' original surname – the T-shirts show Trump's face photoshopped with Hitler's trademark moustache and what appears to be a faint swastika on his forehead. The T-shirt predicts that Trump, 69, will win the presidential election in November 2016, reading: "President of the United States. Donald J. Trump. 2016-2020. We f****d up."
While some find the T-shirts funny, others have criticised Tyler, 25, for what they saw as free promotion for the controversial candidate. One stated: "Why are you putting his name on a shirt and promoting his f*****g lame ass. Come on man." Another critic tweeted: "The only thing I would do with this shirt is throw it in the garbage. I wouldn't be caught wearing a shirt for Trump," while someone else added: "Alright now I really have to unfollow you." Another warned Tyler of possible legal repercussions for comparing Trump to the German dictator, writing: "He gonna sue the f**k outta u."
Trump and Tyler crossed paths in 2013 when both appeared on Late Night With Jimmy Fallon and the rapper photobombed the businessman as he posed for a picture with a fan. Sharing the photo of the encounter, Trump told his Twitter followers at the time: "Was photo bombed yesterday by a wise guy when i left the set of @LatenIGHTjIMMY. Guy in front asked for picture – said he was the biggest fan, never saw the guy in back."
Tyler is not the only rapper to express their dislike for Trump with T.I. slamming the controversial GOP presidential candidate on Instagram in March. The hip hop star said in a video: "Donald Trump this message is for you. My name is Clifford T.I.P Harris. I say this as non-violently, but as unapologetically as possible: F**k you and f**k what you stand for. Nobody who supports me will support you. End of message."
He also wrote: "I ain't going for it... Mr Trump, if u beat me u won...but I WILL NOT BE FOOLED!!! I know u got plans for my people that are contrary to OUR BEST INTERESTS. Make no mistake... WE AINT ON THE SAME SIDE. Whatever U ARE,IM NOT!!!! Be CLEAR!!!! I have a family, I have children, I have ancestors that I WILL NOT LET DOWN. If me & mines ain't safe, if me & mines in danger.... Guess what??? It's gon take all my air to keep me from #Goin⬆️ Heh... U Have No Idea. May God Be with U sir. Have a nice day Mr. Trump."
Tyler, real name Tyler Okonma, is no stranger to controversy himself after reportedly being banned from entering the UK in 2015 due to his allegedly homophobic lyrics. The rapper had been due to perform a series of shows in the country but told his Twitter followers he was not allowed to visit for "three to five years".