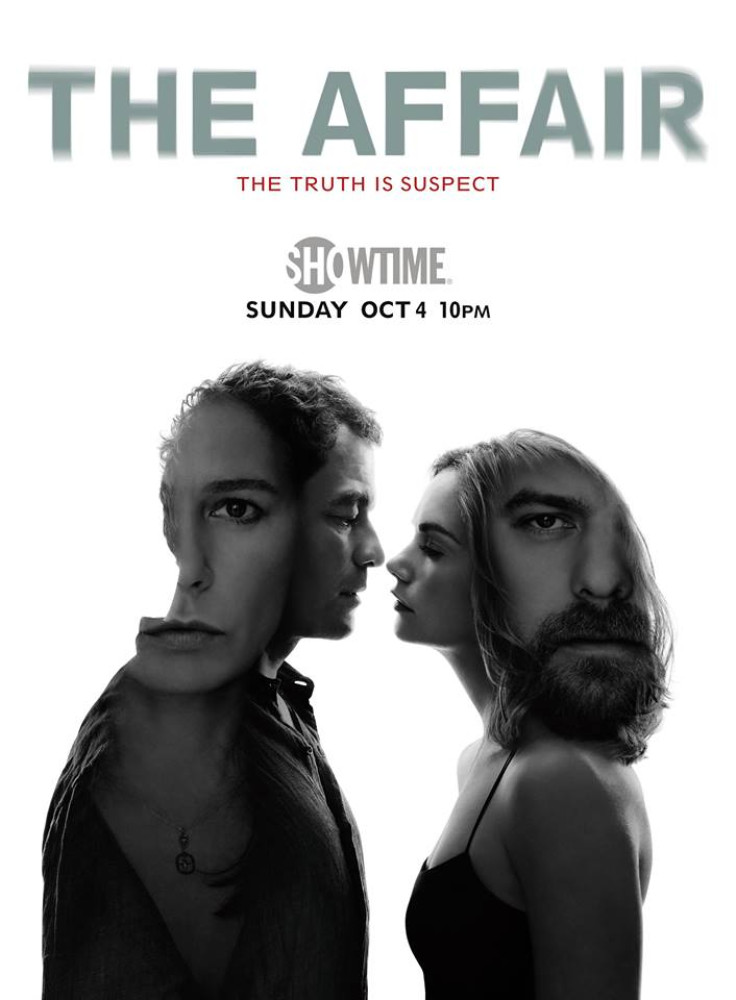 Showtime has officially revealed The Affair's season 2 premiere date, trailer and a new tagline.
The hit drama starring Dominic West, Ruth Wilson, Maura Tierney and Joshua Jackson will return on 4 October, where Noah and Alison's love will be put to test. This season, the provocative drama will be told separately from four different perspectives, revealing four distinct truths.
The show's pilot season ended on a cliffhanger as Noah was arrested for Scotty's murder. Another key event in the finale was the confrontation between Noah, Helen Solloway and the Lockhart family over Scotty Lockhart impregnating the Solloways' teenage daughter.
Here are a few spoilers for the show's second season:
1. Who killed Scotty: The upcoming season will deal with unraveling the mystery surrounding Scotty's death, as its tagline reads, "The truth is suspect." Noah is the prime suspect as he had threatened to kill Scotty because he impregnated his daughter.
The next season will also show detective Jeffries searching for answers since his evidence against Noah is inconclusive, even after the latter's arrest.
"Season two in the past will pick up very quickly after season one ends. We have more to go in terms of the story before the past catches up to the present," creator Sarah Treem revealed.
In a new trailer unveiled by Showtime, Noah claims that he didn't kill Scott, and a voice over says, "Well, we've got to find out who did."
2. Helen and Cole narratives: Although the first season focussed mainly on Noah and Alison, the next season may include some more perspectives.
"I hope we'll be seeing Helen and Cole's [narratives]," Treem said and added, "It's all still very much theoretical, but that's the idea in my head at this point."
In the first season of The Affair, scenes in Noah Solloway (Dominic West) and Alison Bailey's (Ruth Wilson) perspectives were shown along with distinct differences on how the two remembered the same scenario. With Helen and Cole's perspectives to be shown in the second season, will the truth be revealed or will it become more distorted?
3. New love interest for Cole: According to Entertainment Weekly, Joshua Jackson's character Cole who lost both his child and his wife by the end of season 1, will have a new love interest in season 2.
Cole's new love interest will be played by Catalina Sandino Moreno. She will play Luisa, an "independent and spirited" woman who illegally emigrated from Ecuador as a child and is now working her way through school.
4. Actor teases season 2 plot: Ruth Wilson (Alison) said in a promo video, "This season we will be watching consequences of Noah and Alison's affair. If relationships starts from the place of secrecy, can it go to to a place of honesty."
Meanwhile, Maura Tierney (Helen Solloway) said, "The wreckage they have left in the wake of that, it doesn't disappear."