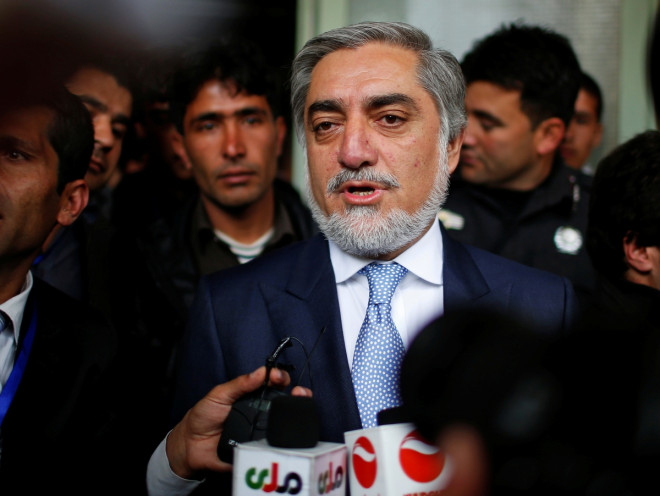 Initial results for the Afghan presidential election show former foreign minister Abdullah Abdullah leading by 41.9% of the votes, and point to the increasing likelihood of a runoff.
His rival and former finance minister Ashraf Ghani was close behind with a score of 37.6%, while Zalmay Rassoul who has the tacit backing of current President Hamid Karzai, is trailing with just 9.8% of votes.
However, it is too early to get a clear picture of the final results as only about 10% of the total votes have been counted so far since the April 5 poll. It will be some time before any comprehensive result is out as the ballots are being counted by hand.
Abdullah has to win more than 50% of the votes to reserve a guaranteed seat as the head of the country.
If none of the candidates succeed in attaining an absolute majority, or 51% of the votes, a run-off between the two candidates with the highest polling scores will decide the winner.
"I want to make clear that the results could change in future, as we announce the results with additional percentages of the vote, and this is not the final result," Election Commission (IEC) chairman Ahmad Yousuf Nuristani told Reuters.
The elections were marred by allegations of fraud and vote rigging. Concerns have been raised over suspected incidents of fraud totalling to about 3,724 separate allegations, according to an election watchdog.
Both the leading candidates have said that voter rigging remained a top concern in the elections, and that suspected cases of fraud might even exceed 2009 levels, when about one million votes were annulled.
"Today, getting the count right is our main focus," Abdullah told the Washington Post.
The Afghans had cast their votes amid heavy security across different polling regions in the face of persistent Taliban threats to resist the elections.
The Ministry of Defence in Afghanistan confirmed up to 690 attacks in the country during the election season, but the Taliban claim that they had launched over a thousand assaults, according to Al Jazeera.
At least 20 people were killed and about 43 others, mostly civilians, were injured in the targeted attacks on election day, the CNN reported.
Despite the violence and allegations of fraud, the authorities are calling the elections a success as there were no reports of high-profile attacks by the Taliban, while the voter turnout was high at 60%.
The three main contenders for the top post have held crucial portfolios in Karzai's administration in the past, and are all deemed to be highly educated moderates.
In 2009, Abdullah finished close behind Karzai, but then declined to contest in a runoff.
This time Karzai is barred by the constitution from running for the presidential post, which gives Abdullah a good chance to win the required majority. A clear pattern in the race will emerge only after counting ends and complaints of rigging are addressed.