Afghanistan's spy agency has confirmed that Taliban leader Mullah Akhtar Mansour was killed in a US drone strike approved by US President Barack Obama. Mansour, and another armed Taliban fighter, were targeted by multiple strikes in a remote area of Pakistan close to the border on 21 May.
Mansour, who was accused of drug trafficking by the United Nations, had assumed the leadership of the Afghan Taliban in July 2015, replacing founder Mullah Mohammad Omar. After formally taking control he masterminded the Taliban's capture of the northern city of Kunduz in September 2015.
The Pentagon had stated that they believed that Mansour was killed in the strike, near the town of Ahmad Wal, but Taliban sources had denied his death. US Secretary of State John Kerry said that Mansour had posed "a continuing, imminent threat" to US personnel.
Hailing from the southern province of Kandahar province he was once civil aviation minister during the Taliban's rule in the country. The Taliban's strength in the country has been diminishing in Afghanistan due to infighting with a Taliban splinter group proclaiming Mullah Mohammad Rasool, the former governor of Nimruz province, as leader and new Islamic State (Isis) affiliate emerging in the country.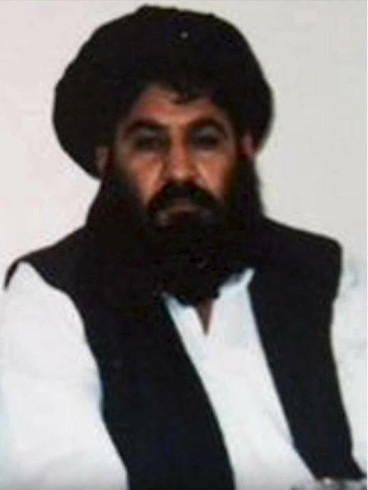 The Afghan National Security Directorate (NDS) confirmed to the BBC on 22 May that Mansour had been killed in the Dalbandin area of Pakistan's Balochistan province. Afghan chief executive Abdullah Abdullah and defence ministry spokesman Daulat Waziri confirmed that Mansour had been killed.
Earlier Pentagon spokesman Peter Cook had said Obama has authorised the strike. He told Reuters that: "Mansour has been the leader of the Taliban and actively involved with planning attacks against facilities in Kabul and across Afghanistan, presenting a threat to Afghan civilians and security forces, our personnel, and coalition partners.
"Mansour has been an obstacle to peace and reconciliation between the government of Afghanistan and the Taliban, prohibiting Taliban leaders from participating in peace talks with the Afghan government that could lead to an end to the conflict."
Other reports from the Taliban denied his death. One unnamed Taliban commander was quoted as saying: "We heard about these baseless reports, but this not first time. Just wanted to share with you my own information that Mullah Mansour has not been killed."