US President Obama is demanding millions of dollars of federal funding to equip 50,000 police officers with body cameras in the hope there will be no more scenes like the riots following the shooting of unarmed Michael Brown in Ferguson, St Louis.
Much of the tension following the 18-year-old's shooting by Officer Darren Wilson and after Wilson was acquitted of acting unlawfully arose because no-one apart from the policeman knew what really happened.
Wilson maintained that Brown attempted to attack him and grab his gun, and several eye-witnesses were reported as anonymously corroborating his version of events. However many believe the unarmed Brown was shot simply because he was black and was actually holding his hands up to surrender when he was killed.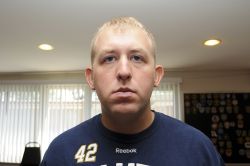 President Obama is now asking for $75m (£47.7m) for cameras to be worn by police officers while on duty. Some officers in St Louis are already reported to be wearing the cameras, fearful of being embroiled in a similar situation to that of Wilson, who quit the force fearing further violence.
The body-camera proposal is just one of a series of measures discussed by a special task force set up by the President to improve community relations between the police and black communities.
In a statement the White House said: "Recent events in Ferguson, Missouri and around the country have highlighted the importance of strong, collaborative relationships between local police and the communities they protect.
"As the nation has observed, trust between law enforcement agencies and the people they protect and serve is essential to the stability of our communities, the integrity of our criminal justice system, and the safe and effective delivery of policing services."
The Ferguson unrest has once again exposed the fault-lines between police - often criticised for being overtly militaristic in nature - and the communities they serve.
St Louis was again in the spotlight this weekend when five members of NFL team the St Louis Rams walked into the stadium with their hands raised in a show of solidarity with Ferguson protesters. St Louis Police Officers Association said it was "profoundly disappointed" by the gesture, saying the players "chose to ignore the mountains of evidence released from the St. Louis County Grand Jury."