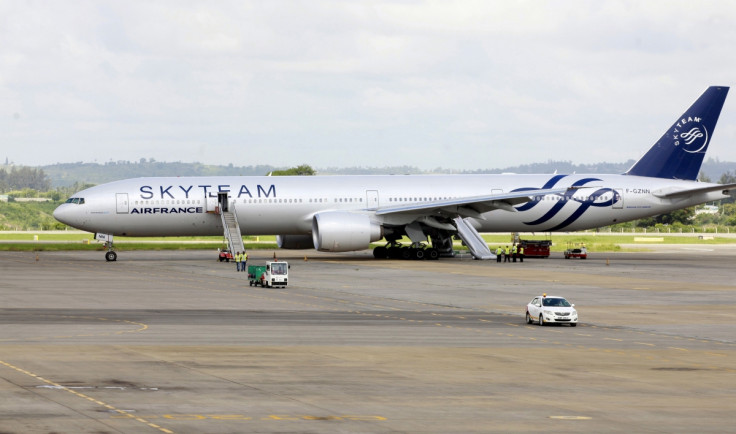 Kenyan police are questioning at least six passengers of an Air France flight that was diverted to Mombasa over a suspicious package on board. Local media reported that at least four are being treated as persons of interest, while experts are at work to ascertain whether the device found in the aircraft's toilet is a bomb.
Air France flight 463 from Mauritius to Paris was forced to land in Mombasa, after passengers alerted cabin crew of a suspicious device that looked like "a stopwatch mounted on a box," according to a police official. The Boeing 777 was carrying 459 passengers and 14 crew who were all safely evacuated after it landed in the coastal city at 12.37 am.
Authorities said they are analysing the package to confirm if it contained explosives. "Ongoing investigations will determine whether the gadget found is a bomb. Investigators are working in liaison with France and Mauritius," told Standard newspaper.
Kenya Airports Authority initially issued a Facebook statement confirming the device was indeed a bomb, but the message was later amended.
"Kenyan bomb experts discovered a bomb inside Air France at MOI international airport, Mombasa" the initial statement read. "The explosive was carried away to a safe place outside the airport." The message was later replaced by another confirming only that a" suspicious object" was found. "The object has successfully been retrieved from the Paris bound flight," it added.
The plane was scheduled to land at Paris Charles de Gaulle at 5.50am local time
Air France said all passengers were being "taken care of by Mombasa's airport ground staff and will be accommodated. An investigation is being led by the authorities to identify the source of the threat."
An evacuated passenger said everything went smoothly and they didn't feel in danger at any time. "The plane just went down slowly, slowly, slowly, so we just realized probably something was wrong," Benoit Lucchini of Paris, told reporters at the airport.
"The personnel of Air France was just great, they were just wonderful. So they kept everybody calm. We did not know what was happening," said Lucchini. "So we secured the seat belt to land in Mombasa because we thought it was a technical problem but actually it was not a technical problem."
AF463 was the fourth Air France flight to be diverted over a bomb threat in recent weeks. No bomb was found in the previous occasions that came amid high levels of alert following the Islamist attacks that killed 130 people in Paris In November and the October Islamic State (IS) bombing of a Russian airliner in Egypt.
Air France bomb scare: Kenya police question passengers over device looking like 'stopwatch on a box'