More than 140 people were killed and over 500 were left injured in air raids that hit a funeral hall in the Yemeni capital of Sana'a on 8 September, United Nations said citing local health officials. The Houthi rebel run-government blamed the Saudi-led coalition for the attack on Saturday, which Riyadh denied.
However, Ghazi Ismail, the Houthi rebel run government's acting health minister, said that the death toll was at 82. He further said that the air raid took place in the southern part of the city, where a funeral was taking place for Ali al-Roweishan, the father of the interior minister Galal al-Roweishan.
He said at a news conference in Sanaa, "The Saudi aggression committed a major crime today, by attacking a mourning hall for the al-Roweishan family, targeting residents in the hall."
The death toll is believed to be one of the largest in a single incident since the Saudi-led coalition began military operations to reinstate President Abd Rabbu Mansou Hadi back to power after he was ousted by the Houthi rebels.
The UN humanitarian co-ordinator for Yemen, Jamie McGoldrick condemned the "horrific attack". The injured and dead include senior military and security officials belonging to the Shia Houthi rebel group.
In the wake of the attack on Saturday, numerous body parts were found scattered in and outside the hall as rescuers gathered them in bags, Reuters reported.
Residents said that the fighter plane released two missiles at the funeral hall. One fell on the building and set it on fire, while the other one fell nearby. The International Committee of Red Cross told BBC that it had prepared 300 body bags.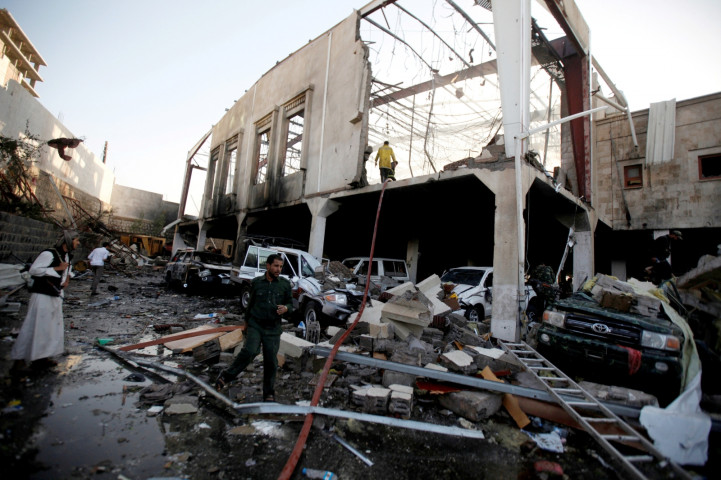 Reacting to the unfortunate incident, the United States in a very strongly worded statement said that it could consider cutting support to the Saudi-led coalition.
White House National Security Council spokesperson Ned Price said: "U.S. security cooperation with Saudi Arabia is not a blank check. In light of this and other recent incidents, we have initiated an immediate review of our already significantly reduced support to the Saudi-led coalition and are prepared to adjust our support so as to better align with U.S. principles, values and interests, including achieving an immediate and durable end to Yemen's tragic conflict."
Meanwhile, the Saudi-led coalition in a statement said: "The coalition will immediately investigate this case along with the Joint Incidents Assessment Team in Yemen and experts from the United States who participated in previous investigations."