Singapore's postal service has signed a major deal with French aerospace manufacturer Airbus to trial drone package deliveries in 2018.
Singapore Post (SingPost) and Airbus' civil and military helicopter manufacturing arm Airbus Helicopters have formed a partnership to research and develop the safe use of unmanned aerial vehicles (UAV) for delivering and dropping off packages and parcels in urban environments.
As part of the trial, live tests will be conducted at the National University of Singapore campus in Kent Ridge in early 2018. Sub-25kg octocopter drones from Airbus Helicopters' Skyways project will fly autonomously over predefined routes from the Port of Singapore to drop off parcels weighing a maximum of 4kg at specially defined lockers located across the campus.
"The project... is designed to address real-world challenges such as safety and accurate flight in high-rise cities while meeting the needs of customers," SingPost covering group CEO Mervyn Lim told the Straits Times.
"The next stage is to work with a name like Airbus – well known for safety – to develop a commercial prototype. So this is the gradual phase-to-phase development as we see this to be the future of urban logistics."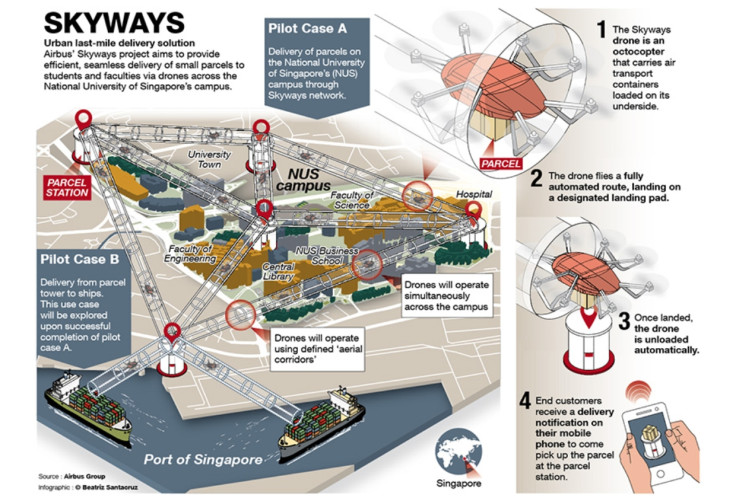 Airbus will be in charge of developing the UAVs, while SingPost will provide logistical support. The companies have chosen drones with eight rotors instead of the usual four as a safety measure to ensure that the UAVs are able to continue flying even in the event of motor failure.
SingPost has previously conducted other trials of drone technology. In September 2015, the postal service successfully performed the world's first drone point-to-point recipient-authenticated postal delivery when it flew a drone carrying a letter and a parcel containing a T-shirt from one island to another.
Drone deliveries have been conducted by DHL in Germany, Swiss Post in Switzerlandand the Posti Group in Finland, and by JD.com in rural China. Amazon, which has been interested in using UAVs for package deliveries for several years, is now testing its Prime Air drones in Cambridgeshire, UK after signing an agreement with the UK government.
Amazon is also secretly testing out UAVs in sites across the US and Canada, with the intent to program the drones with sophisticated artificial intelligence so that they know how to deal with dogs, clothes lines and other potential hazards.