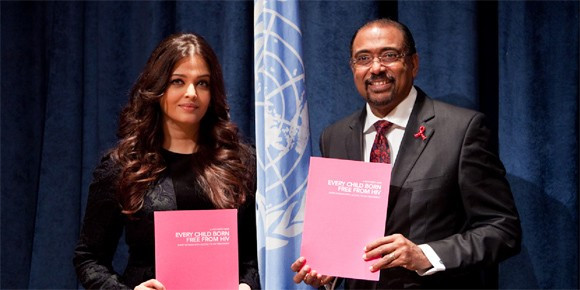 Former Miss World Aishwarya Rai Bachchan has been appointed as international goodwill ambassador of the Joint United Nations Programme on HIV/AIDS (UNAIDS). UNAIDS made the announcement on the eve of the 67th United Nations General Assembly in New York.
In her new role as UN envoy, Rai will help raise awareness of HIV in children across 22 countries, including India, which accounts for more than 90 percent of all new HIV infections among children.
Rai, a mother of one, will promote increased access to antiretroviral treatment, which helped decrease the number of children infected with HIV in sub-Saharan Africa by 25 percent between 2009 and 2011, according to UNAIDS estimates. She will also pitch for the UN's Global Plan, aimed at eradicating new HIV infections among children as well as keeping their HIV-infected mothers healthy and alive.
"I am honoured to accept this appointment. Spreading awareness on health issues, especially those related to women and children, has always been a priority for me," the 38-year-old Bollywood actress said.
"I strongly believe that every baby should be born free from HIV. And I wish that every woman living with HIV stays healthy and has access to treatment. I promise that with UNAIDS, I will do my utmost to make this happen."
Rai also attended a ceremony to mark the International Day of Peace at the headquarters of the United Nations, where she recited "Om Shanti" ("peace") to convey her message.
Widely acclaimed as the most beautiful Miss World of all time, Rai has become the global face of the Indian film industry since winning the famous beauty pageant in 1994.
Having also appeared in several Hollywood films, endorsed multiple international brands and become a regular face at the Cannes Film Festival, Rai has a global reach few of her contemporary celebrity peers can match.
"Mrs Rai Bachchan is respected and admired by millions of people around the world. I am convinced that through her global outreach, Mrs Rai Bachchan can help UNAIDS reach its goal of eliminating new HIV infections among children by 2015," UNAIDS Executive Director Michel Sidibé said in a statement.
"As a new mother, I can personally relate to this -- the joys and concerns of every mother and the hopes that we have for our children," Rai, who gave birth to her daughter Aradhya last November, concluded.