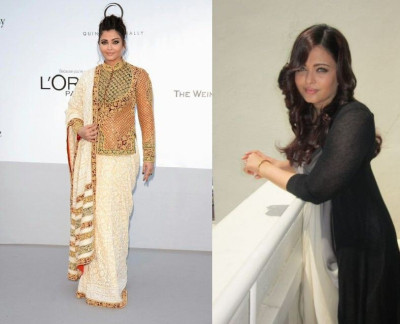 Defying criticism for not losing her baby weight and amidst much speculation about what Aishwarya Rai would wear at 65th Cannes Film Festival, the Bollywood actress took everyone by awe as she arrived in Cannes on Thursday.
Bollywood star Aishwarya Rai Bachchan attended the 2012 amfAR's Cinema Against AIDS gala, a fund raising event for AIDS research worldwide, held during the 65th Annual Cannes Film Festival at Hotel Du Cap in Cap D'Antibes. The 38 year old actress, who gave birth to a baby girl in November 2011, lived up to the "world's most beautiful woman" tag at Cannes and firmly silenced critics who have been on her back about not shedding her extra kilos post delivery while many other actresses in the industry are seen as role models for keeping baby weight blues away.
A former Miss World, Aishwarya Rai made her appearance for the 11th year at Cannes as the brand ambassador of cosmetic giant L'Oreal, which described her as the "Egeria" of the brand.
Instead of couture gowns, Aishwarya Rai wisely opted for traditional Indian attire - the six yard sari. She donned a Chikan embroidery cream-coloured sari adorned with golden and deep red zari (thread) work designed by Indian designer duo Abu Jani and Sandeep Khosla. A full-sleeve, high neck and fully decked blouse, running till her waist, gave her a curvy look and hid her baby bumps.
While her hair tied back into a high bun complimented her ensemble even without any jewellery or accessory, much of her look's credit goes to the subtle make-up on her face. Rai, who was under much media scrutiny for her double chin face for the past six months, wore a make-up that surely made her look chubby cheeked but not fat.
Aishwarya Rai dabbed L'Oreal's Accord Parfait R3 Beige Rose foundation over her face but her magnetic charm reflected through her smoky eyes. According to L'Oreal, she applied Color Infallible 24 Bronze Divine eyeshadow on the eyelid, starting from the inner corner and the arcade. A thick line of black kohl drawn on the lower lash line and inside the eye, gave a silhouette effect to her eyes, while L'Oreal's False Eyelashes mascara applied on Rai's lashes made her eyes look more intense. To enhance her looks further, Aishwarya Rai intuitively applied red lipstick (L'Oreal's 501 Nude Caress Ingenue) on her lips that did not at all look blatantly red, but gelled with her dress.
The actress was also seen in Australian designer Angelo Katsapis's white and black maxi dress on the French Riviera which definitely made her look slimmer.
Check out the slideshow with the latest pictures of Aishwarya Rai at Cannes Film Festival 2012...