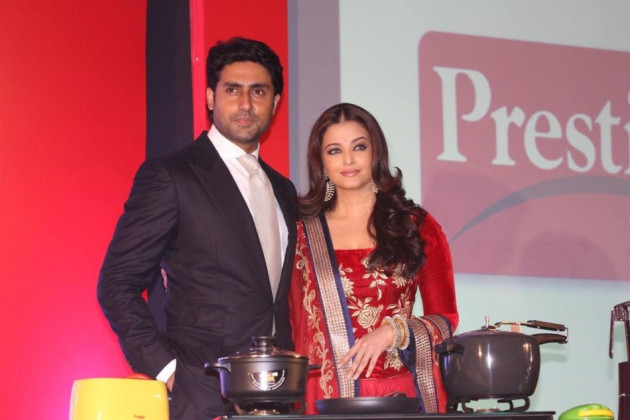 Bollywood beauty Aishwarya Rai Bachchan and her actor husband Abhishek Bachchan will host the first ever AmFAR fundraiser in Mumbai, India, next month. It will take place at the Taj Mahal Palace Hotel on 17 November and will be attended by Hollywood diva Sharon Stone. Kenneth Kole and Kesha will perform in the gala.
The Brangelina of Bollywood, Aishwarya Rai Bachchan and Abhishek Bachchan's sizzling chemistry was on display for their recent Prestige (a kitchen appliances brand) ad. The duo were last seen together on the big screen for the super hit movie Dhoom 2. Their last endorsement together was for Lux.
Meanwhile, the rumour mill is abuzz that Aishwarya might make a comeback soon, with none other than Abhishek Bachchan.
Recently, the actress told NDTV during an interview that filmmaker Farah Khan approached her for "Happy New Year" which she refused since she would be paired with Shah Rukh Khan.
"Yes, I was approached for the film but I wasn't working opposite Abhishek in it, and it really wouldn't work out that way, so things didn't fall into place but soon, will be back soon," Aishwarya said.
Earlier, a source close to the actress told DNA, "Aishwarya was offered for the lead role, and ideally she might have considered it, but the film also stars her hubby Abhishek Bachchan, and he isn't paired opposite her. That was her reservation. She believes that if they come together in a film, they should be paired opposite each other, else the audience might reject the film."
Aishwarya, who was supposed to play the lead in Madhur Bhandarkar's Heroine in 2011, had to drop out of the movie casting due to her pregnancy. She had been on a break ever since.