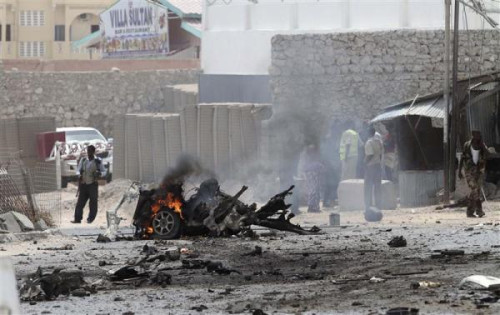 Seven people have been killed by a car bomb explosion near the entrance of Mogadishu's international airport.
The attack, which took place on the periphery of the airport, also left 15 people injured, and set several cars ablaze.
Senior police officer Colonel Abdikadir Ahmed toild Reuters that a car laden with explosives was remotely exploded in front of a tea shop.
Al-Shabaab, a Somali terrorist group linked to Al-Qaida, has already claimed responsibility for the attack. A spokesman told AFP:
"This was an operation carried out by Shabaab. It was a brother who took a sacrificial act to defend the people of Somalia.
"The target was a UN convoy. According to our report, several invaders have been killed."
A UN source said the convoy was carrying staff from the refugee agency UNHCR and their Somali guards. The staff were said to be "shaken" by the attack but apparently unharmed.
The airport is considered to be among the safest parts of Mogadishu, and a number of foreign diplomatic missions are based inside the huge airport complex.
Although al-Shabaab were pushed out of Mogadishu in 2011 by African Union peacekeeping troops, they have carried out several bombings in Mogadishu targeting government officials and foreign nationals.
Al-Shabaab, which means The Youth in Arabic, formed in 2006 as a radical youth wing of Somalia's Union of Islamic Courts.
Al-Shabaab has imposed a strict version of Sharia law in areas under its control and it is believed to have between 7,000 and 9,000 fighters.
It is considered a terrorist group by both the US and the UK.
The terrorist fighters carried out a deadly attack in a shopping centre in Kenya last September, during which more than 50 people died.
The insurgent group still holds power in smaller towns and rural areas in southern Somalia.