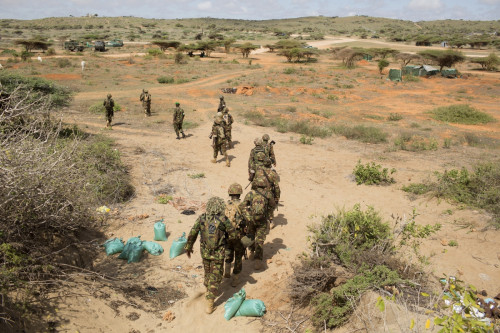 At least 30 members of Islamist militant group al-Shabaab have been killed in an airstrike by Kenyan air force in Somalia, Nairobi said.
The Kenyan military said that fighter jets attacked an al-Shabaab training camp in the Garbarahey district, in Somalia's southewestern Gedo region.
KDF said that many others were injured in the bombing and at least five vehicles and other key assets were destroyed.
"We are yet to establish their identities but they are definitely big shots in the militant group's hierarchy," a military official said.
Al-Shabaab was holding a meeting at the camp when it was bombed, KDF said.
It was the second air raid to hit al-Shabaab targets since the group led siege to the Westgate Mall in Nairobi in September.
At least 67 people were killed during the terrorist attack that the al-Qaida-linked group said was launched in retaliation to the Kenyan government's military involvement in Somalia.
Kenyan troops have been fighting al-Shabaab as part of an African Union effort to oust from the Horn of Africa over the past two years.
Large swathes of land and key cities were regained during the operation that weakened the terrorist group.
"There are remnants of al-Shabaab that are still trying to draw back the gains that have been made (against them)," Kenyan military spokesman Coll Cyrus Oguna said.
"Those remnants are the ones we are focusing on now."