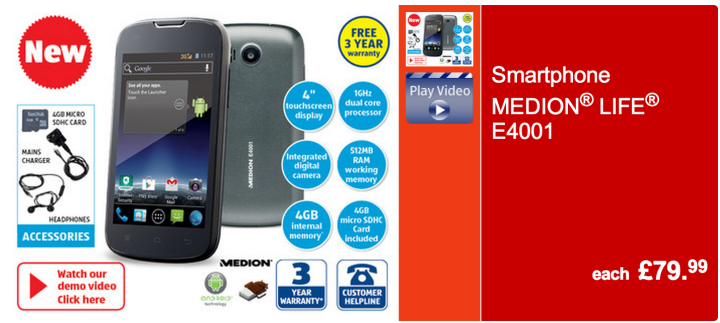 Budget German supermarket chain Aldi has launched an £80 Android smartphone but don't waste your money as there are much better options out there if you just look.
Aldi, in a bid to cash in on the growing demand for cheap devices, will sell the 4in Android smartphone from Chinese manufacturer Medion from Thursday.
The problem is that while these cut-price devices will sit well alongside the budget potatoes and bargain tins of soup, the smartphone market is such that simply offering a cheap smartphone is no longer good enough to attract customers.
The Medion Life's hardware specifications would have been impressive about four years ago:
A low resolution 4in screen (480 x 800 pixels)
512MB of RAM
Android 4.0 (two-generations old)
2 megapixel camera
Just 4GB of internal storage - which will be mostly taken up with system software
Compare that to the Moto G from Motorola which can be bought for just £20 more:
4.5in display (720 x 1280 resolution)
Snapdragon 400 quad-core processor (1.2GHz)
Android 4.4
5-megapixel camera
8GB local storage
Or, if you go for Windows Phone, the colourful Nokia Lumia 630 can be had for £95 with the following specs:
4.5in display (480 x 854 pixels)
Windows Phone 8.1 (latest and greatest version)
5 megapixel camera
8GB storage
Being cheap is no longer enough
The smartphone market has moved on from a year ago when a cheap smartphone would have sold well just because it was cheap. That is no longer the case, and while Aldi may sell some of these phones to customers who don't know any better, to make a significant impact it will have to look to improve its offering.
The background image on Aldi's website promoting the Medion Life shows some pensioners sitting on a park bench, and it seems as if these may be just the people the supermarket chain is targeting with its new phone.
Unfortunately many could be suckered in by the "unbelievably low prices" unaware that there is much better value to be had if they just looked.
The smartphone market is changing. The dominant forces like Samsung and Apple, along with established names like Sony, HTC and LG are being usurped by upstarts from China like Lenovo, ZTE and Huawei as well as lesser-known companies like Xiaomi, CoolPad and OnePlus.
We are soon likely to see an influx of cut-price smartphones from these companies in the UK, which will use a forked version of Android which will allow the companies to sell smartphone at close to cost price and recuperate their profits from content sold through the phone.
Amazon is already using this business model with its Amazon Kindle Fire tablets and its new Fire smartphone. Xiaomi, which became the biggest smartphone manufacturer in China in the last quarter, is follwiing a similar model, and while it's phones are not on sale in the UK yet, they will be soon.