Five practical ways to help Syrians under siege in Aleppo
The crisis in Syria is escalating - here are the charities working to help the situation.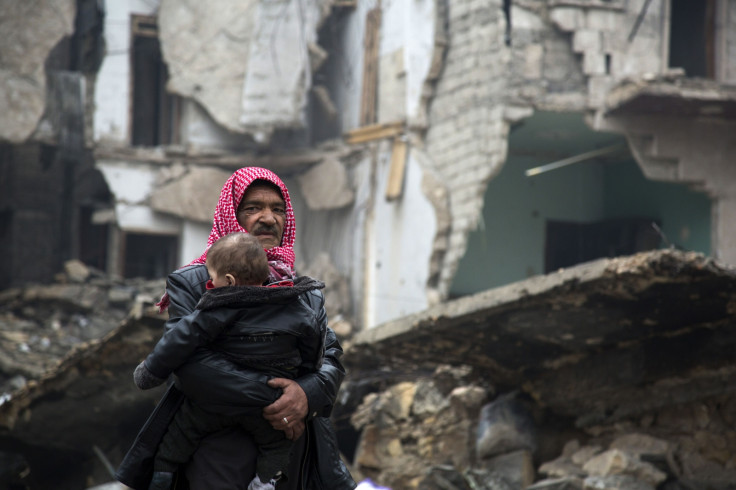 Scenes from rebel-held Aleppo have re-awakened the world to the horrors of the Syria conflict as the government retakes control in city.
Describing a "meltdown of humanity", the United Nations described civilians being shot dead on the spot by pro-Assad forces, including women and children.
Across Syria, millions of children have limited access to food, water, essential healthcare and education - and more than 250,000 children are living under siege. In eastern Aleppo, more than a third of civilians cut off from aid are children, many of whom have witnessed extreme violence and suffer from physical and emotional trauma.
Here are practical ways the world can help, as the crisis escalates in Syria.
Save the Children
Save the Children's Syria Crisis Appeal provide food, water, specialist emotional support and healthcare for children, as well as supporting hospitals and schools. So far, Save the Children and their partners have reached more than half a million children in areas under siege in Syria, as well as those who have fled to neighbouring Jordan, Lebanon, Iraq and Egypt.
You can donate here: Savethechildren.org.uk
International Rescue Committee
The IRC began working in Syria in 2012 and four years later, the organisation has helped more than 1.4m Syrians inside their country. The IRC work with local groups to ensure there is a constant supply of medical supplies, supports mobile healthcare clinics, supplies clothing and essential aid, provides counseling and classes on protection for children, creates safe spaces for women and children and provides emergency cash for displaced families.
You can donate here: Rescue.org
Doctors Without Borders
Doctors Without Borders, or Medecins Sans Frontieres, provide essential medical aid to Syria — through consultations, operations, treatments and vaccines. Hospitals and clinics have been destroyed in the war — in July 2016 alone, there were at least 10 confirmed attacks on health facilities in Aleppo city.
As MSF states, the war has seen attacks on not only medical facilities but also on health workers, including "double-tap" attacks in which an initial strike is soon followed by a second on rescue teams assisting the wounded.
You can donate here: Msf.org.uk
UNICEF
The United Nations Children's Fund, which receives no funding from the UN budget and relies entirely on donations, delivers food, clean water and vaccines to children in Syria, as well as supporting schools and protection services. In 2015, Unicef treated more than 13,000 children for malnutrition. It also provides clothes — including warm clothes for winter — as well as psychological support.
You can donate here: Unicef.org.uk
Migrant Offshore Aid Station
An estimated 11 million Syrians have fled their homes since the outbreak of the conflict in March 2011, with around one million requesting asylum in Europe. In desperation, an increasing number are making the perilous journey across the Mediterranean sea to reach the relative safety of European shores - and thousands have drowned in the process. MOAS, established in October 2013 after around 400 men, women and children drowned off the Italian island of Lampedusa, rescues refugees in crisis at sea.
You can donate here: Moas.eu
© Copyright IBTimes 2023. All rights reserved.