Russia vetoed a French draft resolution at the UN Security Council (UNSC) on Saturday (8 October), which was squarely aimed at a fresh ceasefire in the troubled Syrian city of Aleppo as Moscow still remains at loggerheads with the Western world. The resolution mooted by the Russian side failed to garner enough votes at the international body.
This is the fifth time that Moscow has vetoed the attempts of Western powers at the council in the five-and-a-half-year-long Syrian conflict, which has so far claimed close to 500,000 lives with no glimpses of a permanent solution in sight.
A ceasefire in the embattled Syrian city was intended at forging a diplomatic path to ease the offensive, which had toned down by an interim arrangement between US and Russia, but it escalate after the truce collapsed. While the French-sponsored draft – co-authored by Spain – called for ending air strikes on Aleppo, a rival Russian text did not have any mention of stopping the aerial bombing, but only about the extension of the short-lived ceasefire deal. Nonetheless, both drafts have unsurprisingly failed.
An enraged French Foreign Minister Jean-Marc Ayrault responded to Moscow's move by saying: "We all remember Guernica, Srebrenica and Grozny. What we are seeing in Aleppo is the horrendous repetition of those tragedies. If the international community does not wake up, it will share responsibility."
Eleven of the 15 UNSC members voted in favour of the French draft, which had been in circulation for nearly a week before it came up for the vote.
Moscow's Ambassador to the UN Vitaly Churkin, just before announcing the veto, said the draft was "hastily put together" by Western powers with no clarity on the specifics.
"Today we are participating in one of the most bizarre scenes in the history of the UN Security Council. We will vote on the two draft Council resolutions, and we are all well aware that neither of them will be accepted," said the Russian envoy.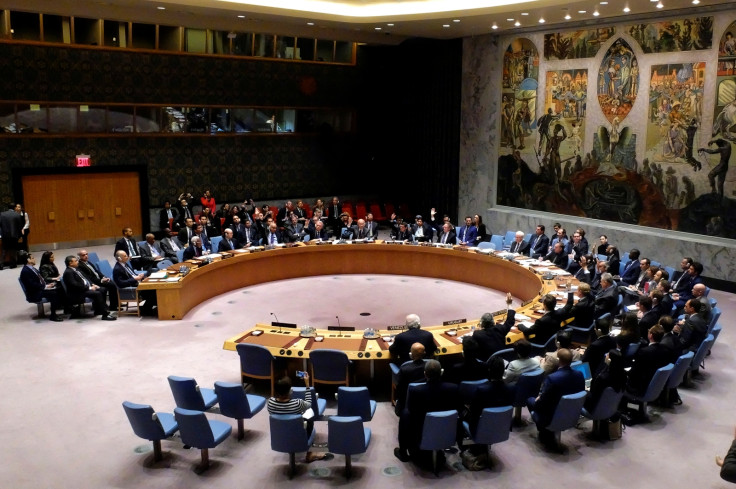 In another face-off, UK's Ambassador to the UN Matthew Rycroft questioned Moscow's intentions and said: "Your veto today, Mr President, has only confirmed what we have known for so long. Russia's actions in recent weeks have exposed just how hollow Russia's commitments to the peaceful process is." Churkin shot back by responding that Britain should stop its "colonial habits" of interfering in sovereign territories.
International aid has not reached rebel-held areas of Aleppo, sheltering at least 250,000 people, since July with the Syrian forces continuing its bombardment even while the UNSC session was on. UN representatives operating in the region have said that people are desperate for humanitarian aid in Aleppo and pleaded for an immediate end to the ongoing violence.