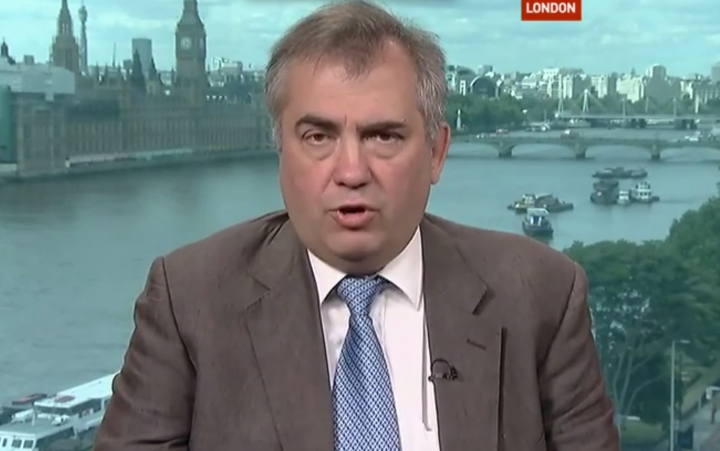 A former Kremlin advisor has called the Ukrainian language "a bad version of Russian" spoken by an illiterate and illegal immigrant in a Twitter post that will likely fuel existing tensions between the countries.
Alexander Nekrassov, whose hard pro-Putin's stance gained him several appearances on British television in the past months, lashed out at the East Slavic language on a controversial tweet:
The tweet was picked up and condemned by an open source intelligence's account called The Osint and managed by security researcher Frederic Jacobs. But Nekrassov replied: "I don't see a problem with what I said. The Ukrainian language is not even a language in a proper sense."
Nekrassov is a familiar face with the British audience having featured on Channel 4 and BBC TV show Question Time. His ultra-nationalist views are that Ukraine has always been part of Russia, Ukrainian language is a dialect and Russia must send troops to defend Russian people.
Ukrainian is an eastern Slavonic language closely connected to Russian and Belarusian and spoken by about 51 million people and in neighbouring countries.
The first recorded history of the language started in 988 when Kiev and the surroundings were converted to Christianity. Religious material at the time was written in Old Slavonic. Ukrainian became the main language in the Grand Duchy of Lithuania and Ruthenian.
From 1804 until the Russian Revolution, the language was banned from schools in the Russian Empire. A decree in 1876 banned the printing or importing of Ukrainian books.
During the Soviet era, Russian was used as the main language of education and Ukrainian was sidelined, according to Omniglot website. After the fall of the Soviet Union, Ukraine declared independence in 1991 and Ukrainian returned as the official language of the new state.
The development came as Putin called on pro-Russian rebels in eastern Ukraine to "stop advancing" and urged the Ukrainian army to remove their troops from the region.
Ukraine President Petro Poroshenko issued a statement about agreeing with Russian President Vladimir Putin on a ceasefire in eastern Ukraine. But the separatists rejected the move and Putin's spokesman claimed Moscow was not in a position to agree to a truce because it is not party to the conflict.