Fox have unveiled the first official poster for upcoming sci-fi sequel Alien: Covenant and instead of making stars Katherine Waterston and Michael Fassbender its focus, the image keeps things simple – with just an eerie, shadowed glimpse of the terrifying titular creature and the word 'run'. The artwork doesn't just tease the film's tone either, it reveals the bumped-up release date too – exciting stuff indeed.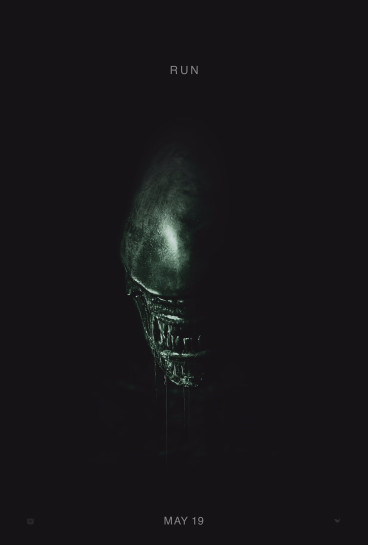 The use of just a single, ominous tagline which has more of a horror vibe in the image is a nice touch, harking back to the original's poster released in 1979, which read: 'In space no one can hear you scream.' The promotional material for follow-ups Aliens and Alien 3 were a lot less scary and more focused on mirroring the movie's action-packed tones, respectively reading 'This time it's war' and 'It's back,' so it's great to see director Ridley Scott going back to the first movie's roots.
Earlier this year, Fassbender – who reprises his role as android David in the movie – told Collider the instalment would be "much scarier than Prometheus" and that it will have "more of the sort of thriller, imminent disaster feel" that is more synonymous with the Alien franchise. The poster design certainly seems to reflect his comments.
Screenwriters and Transcendence's Jack Paglen wrote Alien: Covenant's final script, working from a first draft written by John Logan (Spectre). Also starring Guy Pearce, Carmen Ejogo, Danny McBride, Billy Crudup and Noomi Rapace, the movie was originally aiming to land in both UK and US cinemas on 4 August 2017, but now that seems to have changed... Having wrapped production way back in July, Alien: Covenant will now be released on May 19, according to the debut artwork.
The film will centre around the crew of a colony spacescraft called Covenant, who travel to an uncharted paradise. But in true Alien style, soon after they arrive there, they discover that the land is dark and dangerous, whose 'sole' inhabitant is David... although, we're thinking they'll probably be some extraterrestrials lurking about to wreak havoc too...
For more entertainment news follow A-List on Twitter @Alistinsider