Alien: Covenant promos see eerie found-footage teasing fate of the doomed crew
Katherine Waterston's Daniels and Billy Crudup's Oram attempt to send transmissions back to Earth in the clips.
20th Century Fox has released two new promos for Ridley Scott's hotly-anticipated sci-fi sequel Alien: Covenant ahead of the film's upcoming release date. The short clips see Katherine Waterston's character Daniels and Billy Crudup's Christopher Oram sending transmissions to Earth from aboard the Covenant... but the broadcasts are anything but heartwarming.
Found footage snippets – from cameras attached to exploration suits – interject their communications, adding an ominous undertone to messages sent back home as it spells out their future fates. "Hi Dad, I'm here on the Covenant. We're each allowed one transmission back to Earth so..." Daniels begins before the body-cams reveal her and other crew members wading through waters and traversing a seemingly undiscovered paradise.
"I'm excited for what we're doing. We're reshaping an entire planet; building a new life for 2000 families. Children. My kids some day. Yeah, I think I'm exactly where I'm supposed to be."
"Now that it's happening, now that I'm up here, Earth is getting smaller and smaller. I'm never gonna see you again. If something does happen to me Dad, I want you to know, I love you so much."
It's clear Daniels simply means that if the planet is suitable to inhabit, she'll have no reason to ever return to Earth (and subsequently see her father)... But Alien fanatics know that that might not be the only reason she doesn't make it back.
Oram's transmission doesn't reassure viewers of their survival either. Crudup's character is seen reading aloud from a sheet of paper, saying: "The majesty of creation lies before us now, ours to discover. We shall behold wonders heretofore unimagined." The crew are certainly going to stumble across unimaginable things alright, but something tell us they aren't going to be wonders...
In all of its trailers and clips released so far, Alien: Covenant has proved that it is going to be much more based in horror than its 2012 predecessor, as well as being action-packed to boot. "It's definitely going to be scary. I think it's going to be a lot gorier than everyone's probably expecting," special effects supervisor Neil Corbould previously told Collider during a set visit. "Everyone said they wanted more aliens, they wanted more horror, which, you know, he's certainly taken that on board and I think you're going to get that."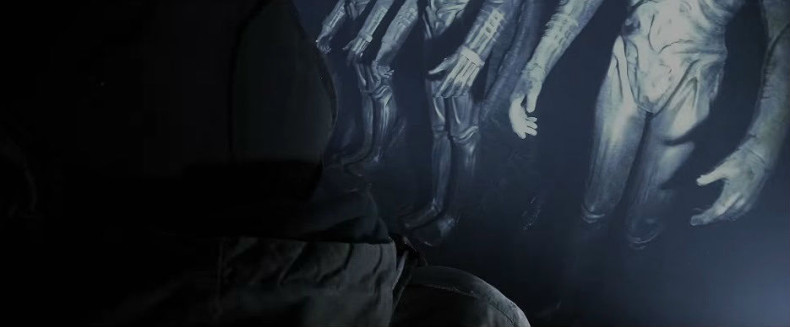 Also starring Empire's Jussie Smollett, Carmen Ejogo, James Franco and Danny McBride, Alien: Covenant centres on the coupled-up crew of a colony spacescraft, who travel to an uncharted planet in the hopes that thousands of people back on Earth can eventually migrate there. Soon after they arrive they discover the land is dark and dangerous and the "sole" inhabitant is android David (Michael Fassbender, reprising his role from the 2012 film). And of course, it doesn't take them long to find out that there's also some scary-looking extraterrestrials lurking about to terrorise them too.
Alien: Covenant will be released in the UK and the US on 12 May 2017.