Update: Suspect Bryce Williams dies in hospital from a self-inflicted gunshot wound.
A reporter and cameraman for a CBS affiliate in Virginia were shot dead by a gunman live on air early on Wednesday. Now their former colleague who is suspected of pulling the trigger is in critical condition after a self-inflicted gunshot wound.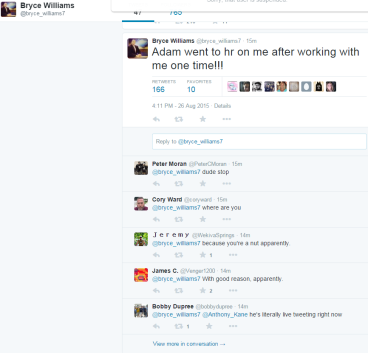 The pair, Alison Parker, 24, and cameraman Adam Ward, 27, were on an assignment on Wednesday, 26 August, for WDBJ-TV in Bridgewater Plaza in Moneta, Virginia, when they were killed, Parker's mother confirmed to CBS.
Police told WDBJ7 that their former colleague Bryce Williams has now shot himself after a police pursuit in connection with the case. Williams was an experienced reporter and was hired at the station in 2012. He had worked at a number of other stations in the southern US, including WNCT in Greenville, NC, WTWC in Tallahassee, and WTOC in Savannah.
Footage from the last moments of Ward's life revealed the blurry figure of the shooter, and Williams' Twitter feed later in the day began posting eerie messages indicating a motive for the shooting. Williams' given name is Vester Lee Flanagan II and an alert from the Augusta County Sheriff's Office described him as a 6'3″ and 250lbs light skinned black male. Police say he has a pulse and is in hospital after shooting himself following a pursuit on Interstate 66.
WDBJ's general manager Jeff Marks appeared live on air to tell viewers: "It's my very, very sad duty to report... that Alison and Adam died this morning."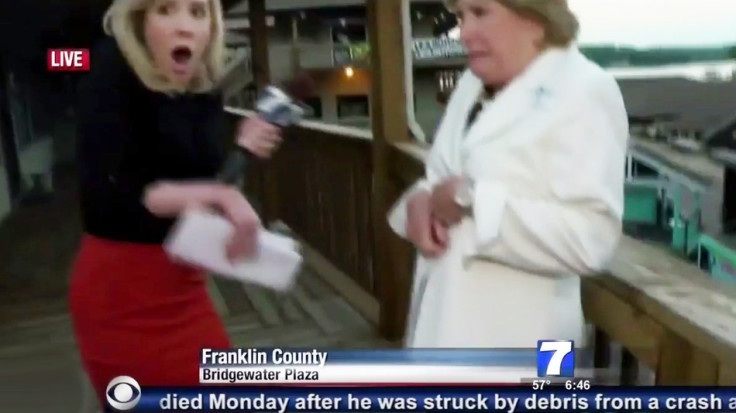 Footage from the broadcast shows Parker interviewing Vicki Gardner, executive director of the Smith Mountain Lake Regional Chamber of Commerce, about tourism at the plaza at 6.45 am local time. Shots break out and Parker and the interviewee scream. Before the feed cuts out a man can be seen standing with a gun. The broadcast then cuts back to the studio, where the visibly distressed news anchor says: "OK, not sure what happened there. We will of course let you know as soon as we find out what those sounds were."
"We love you Alison and Adam", tweeted WDBJ in tribute to the pair. Gardner was shot in the back and is in surgery, Roanoke.com reports.
As authorities attempted to establish a motive for the shooting, New York Police Department announced it would step up police presence at TV stations as a precaution.
Parker was engaged to an anchor at the station, Chris Hurst, who shared his grief on Twitter. Ward was engaged to a producer at the station, Melissa Ott, said WDBJ. CNN's Brian Stetler reports Ott was in the control room and "saw the shooting happen live".
Parker attended James Madison University, where she edited the university newspaper, The Breeze, and interned at WDBJ before being hired as a reporter.
Ward attended Virginia Tech, and was described by station spokesman Mike Morgan as their "go-to guy".
WDBJ-TV is based in Roanoke, Virginia, and serves the southwest and central part of the state. The shopping mall where the shooting took place is just off Smith Mountain Lake.
Moneta is about 25 miles southeast of Roanoke.
WARNING: VIDEO CONTAINS GRAPHIC FOOTAGE