Alitalia goes bust: Italy's flagship airline triggers insolvency process as liquidation looms
Two-thirds of workers at Italy's flagship airline rejected turnaround plan involving salary cuts and redundancies.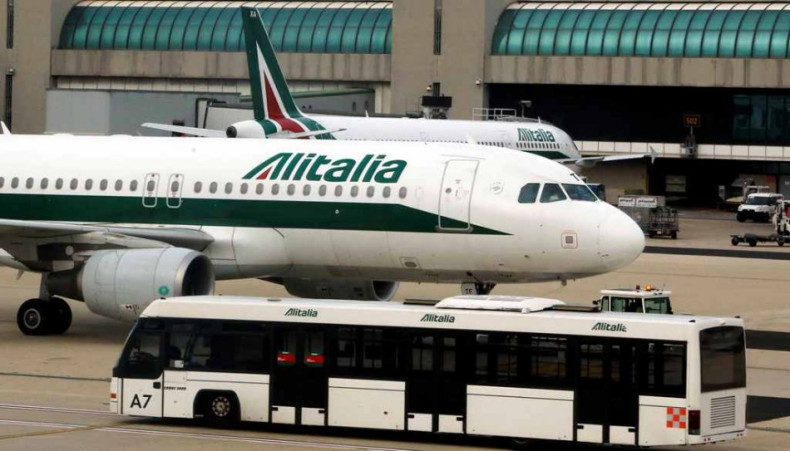 Alitalia, Italy's flagship airline, has triggered insolvency proceedings after staff spurned a proposed turnaround plan, which included salary cuts and layoffs aimed at rescuing the stricken carrier.
On Tuesday (25 April), the company said a €2bn (£1.7bn) recapitalisation plan contingent on the turnaround strategy was effectively buried, adding it will start appropriate "legal procedures" as funds run out.
In a statement, Alitalia said "given the impossibility of recapitalisation" it had decided to "begin procedures foreseen by law," a reference to extraordinary administration , adding its board will meet on Thursday to discuss the course of action.
Results released on Monday, showed over two-thirds of Alitalia 12,500 workforce had refused the turnaround plans put forward by the carrier.
The package included 1,600 jobs cuts, down from an initial proposal of 2,000, which would have helped the airline to break even.
"An approval [...] would have unblocked a €2bn capital increase, including €900m of fresh funds, that would have been used to relaunch the company," Alitalia said in a statement.
Italy's government has repeatedly dismissed the possibility of nationalising the airline, which was last put into bankruptcy in 2008 after labour and political opposition derailed a proposed sale.
Before the rescue plan was put in front of the staff, Italy's Economic Development Minister Carlo Calenda warned a rejection of the offer would likely result in the appointment of a special administrator to oversee the airline.
That would in all likelihood lead to the carrier's assets being disposed of, although the Italian government is understood to be committed to wait for the shareholders next move as it seeks to "minimise the cost to citizens and travellers".
According to sources cited by Reuters, once an administrator is appointed, a decision will have to be made over whether the airline can be rescued or whether it should be wound up. In the first instance, the administrator could be seeking buyers for the carrier, either through a partial or total sale or the company could be revamped as a standalone entity.
However, that would most likely entail a drastic reduction in operations and severe job cuts, among other measures aimed at making Alitalia financially viable within two years.
Alternatively, the airline could be put up for liquidation.
Alitalia, which is 49% owned by Etihad Airways, has rarely reported a profits in its 70-year history and reported a net loss of €199m in 2015, the latest year for which financial reports are available. Last week, UniCredit, Italy's largest lender, its losses on the airline amount to approximately €500m.
A decade-long struggle
Once the dominant force in Italy's aviation market, Alitalia, which flies to 80 destinations worldwide, has seen its stature diminish at a rate of knots.
According to a study on industry data from Milan's Bicocca University, the carrier's share of the Italian market has plunged from 23% in 2007 to 18% as of 2015, as the airline bore the brunt of increased competitions from budget carriers.
The data showed Ryanair and easyJet are currently the two main players in the Italian aviation sector, with a market share of 23% and 12% respectively.
Italy's flagship airline carried 22.6 million passengers, a drastic decline from 30 million a decade earlier. More worryingly, as far as the carrier is concerned, over the same period its main rivals have taken major strides forward, albeit some have done through acquisitions.
Lufthansa added 55 million passengers, while IAG, the parent company of Aer Lingus and British Airways, and Air France-KLM reported an increase of 25 and 20 million passengers respectively.
Furthermore, flights from Milan to New York, which were once Alitalia's busiest route, have come under pressure since Emirates began a service connecting the two cities in 2013.