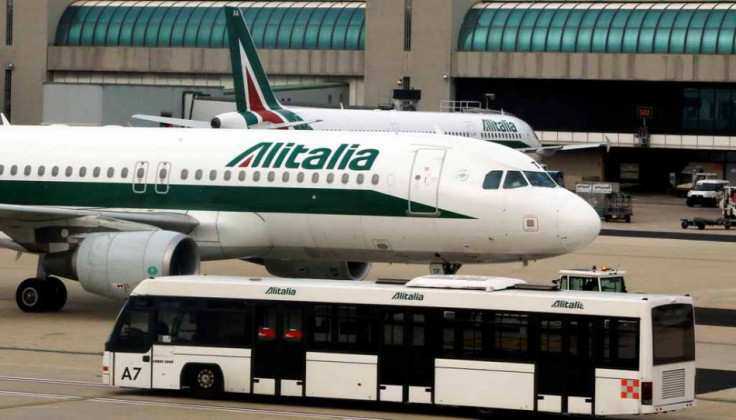 Alitalia, Italy's flagship airline, has been put up for sale as the Italian government launched the process of finding a buyer in a bid to rescue the stricken carrier.
In a document released earlier this week and signed by the government's appointed commissioners, the airline said that offers from individual companies or consortia will have to be presented no later than 5 June.
The administrators told potential suitors they will consider bids to acquire the whole company, as well as offers to restructure it or purchase assets and contracts.
In a statement published on its website and on some major and international newspapers, Alitalia said it intends "to collect expressions of interest finalized to define the extraordinary administration procedure in accordance with orientations provided [by the Italian legal system]."
Earlier this month, the airline formally began bankruptcy proceedings after receiving approvals from its shareholders.
The carrier said its board had approved the request to begin an "extraordinary administration" process, after its shareholders determined the airline's "inability" to carry out a recapitalisation plan, following a meeting on 2 May.
A week earlier, it had triggered insolvency proceedings after staff spurned a proposed turnaround plan, which included salary cuts and layoffs aimed at rescuing the stricken carrier. The package included 1,600 jobs cuts, down from an initial proposal of 2,000, which would have helped the airline to break even.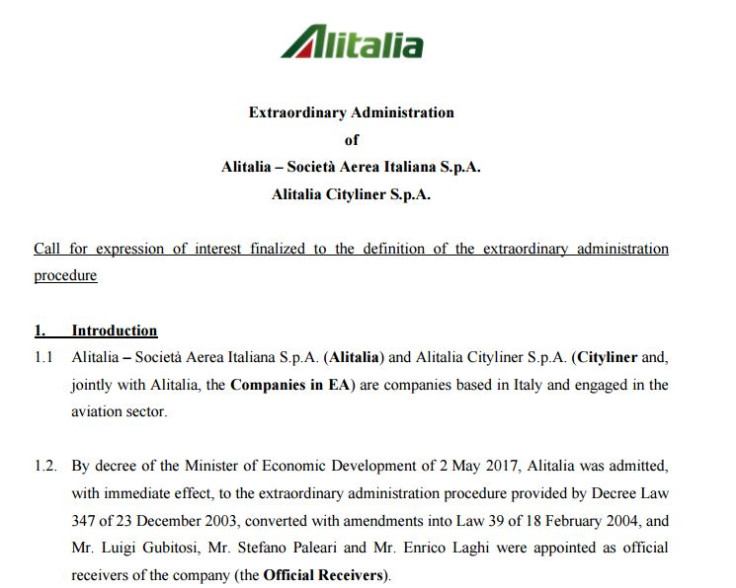 With a €2bn (£1.7bn) recapitalisation plan contingent on the turnaround strategy effectively buried, the airline said it would start appropriate "legal procedures" as funds ran out.
Italy's government has repeatedly dismissed the possibility of nationalising the airline, which was last put into bankruptcy in 2008 after labour and political opposition derailed a proposed sale.
However, Rome extended a €600m loan in a bid to keep the airline afloat for the next six months and has appointed three commissioners, who have promised to devise a plan by July and who will carefully inspect Alitalia's balance sheet.
According to the latest records available, as of 28 February, Alitalia's debts stood at approximately €3bn, with liabilities of €2.3bn and assets of about €921m.
Lufthansa, Norwegian Air, Air France-KLM have all ruled out any deals with the airline, while reports in Italy have suggested Qatar Airways could be among the potential suitors. That, however, could pose a problem as non-European Union carriers can not own more than 49% of a European airline and Alitalia is already 49% owned by Etihad Airways.
Italian Transport Minister Graziano Delrio said this week that the limit was "unrealistic" and that negotiations to overcome the cap were "at an advanced stage".