A teenager has been arrested on suspicion of arson after a 200-year-old Grade II listed church caught on fire in Hampshire.
A 17-year-old boy was arrested following the fire at the All Saints Church in Fleet on 22 June. There have been no reported injuries as a result of the blaze, but the building's roof has been "completely destroyed".
Firefighters put out the fire which ripped through the building after more than three hours. The suspected arson attack occurred after a bible in flames was found near the entrance of the church around two weeks ago. Police are investigating whether the two incidents are related.
A 17-year-old boy from Fleet arrested on suspicion of arson has been released on bail until 27 August pending further investigation.
Sergeant Rob Wallis from Fleet Neighbour Policing Team said: "The fire has completely destroyed the church and has understandably caused concern within the local community. Our officers are in the area providing reassurance to local churches and the community."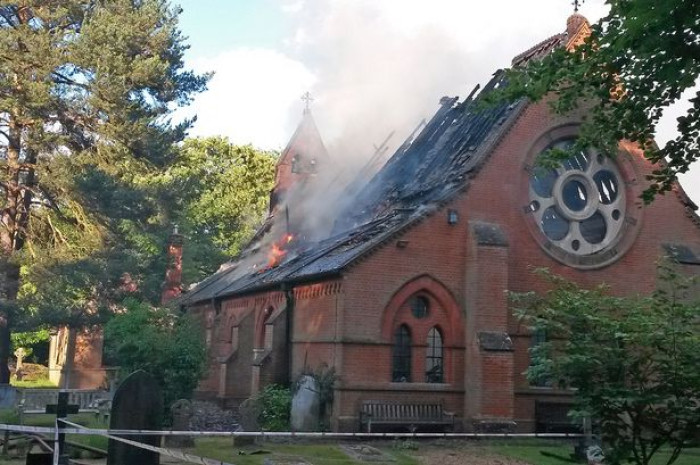 Group Manager Brian Rudman, of Hampshire Fire and Rescue Service, said: "This was a significant fire that has seriously affected a beautiful and historic building. Crews have worked hard in arduous conditions to bring the fire under control.
"Unfortunately the roof of the church has been completely destroyed by the fire but the main structure and brick work remains intact and there is every hope that this church can be rebuilt in the future."
A Church of England Diocese of Guildford spokesperson added: "The news of the fire at All Saints Church in Fleet is alarming, and our immediate prayer is that everybody within the vicinity is safe and sound, and for members of Hampshire Fire and Rescue Service who are tackling the blaze.
"The sudden loss of a church building can have a far-reaching effect on a community, beyond those who attend regularly, and so our thoughts and prayers are also with the Vicar and everyone in the congregation and town of Fleet."