Alluringly Anorexic T-Shirts 'Raising Awareness of Eating Disorders' Pulled from Spreadshirt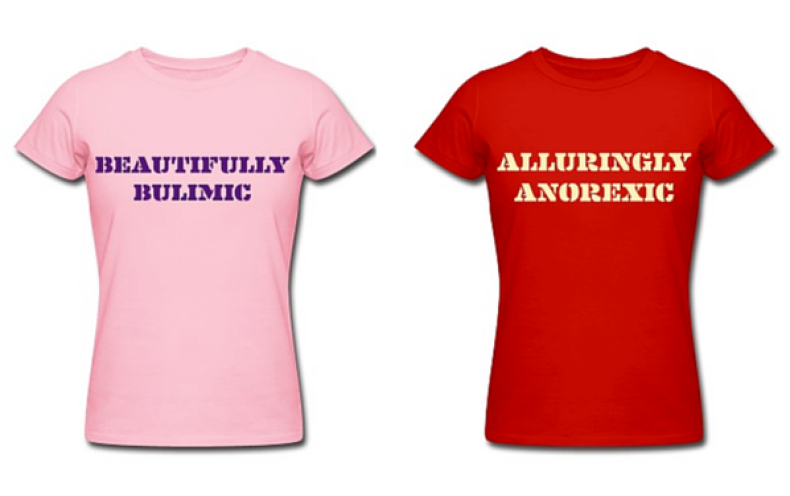 A range of t-shirts have been pulled from sale from an online retailer following complaints they had slogans glamorising eating disorders.
The t-shirts, designed by artist Ioana Urma and available on the Spreadshirt website, contained phrases such as 'Beautifully Bulimic', 'Gracefully Gaunt' and 'Breathtakingly Bony' written across them.
The designs was accused of trivialising and glorifying "fashion's deadly diseases" such as bulimia and anorexia by selling the t-shirts.
Matan Uziel, an ambassador for the National Eating Disorders Association, set up an online petition urging Spreadshirt's CEO Philip Rooke to withdraw the t-shirts from sale.
Uziel wrote on the Change.org page: "We are deeply disappointed to see such offensive listings by Spreadshirt because these are outright wrong. By keeping the t-shirts, Spreadshirt is playing a great role in trivialising the physiological and physiological complications of anorexia, bulimia and other eating disorders."
However, the designer defended the slogans, saying they were actually attempting to raise concerns about the issues surrounding eating disorders rather than glamorise them.
The designs are based on Urma's 2013 installation My Model Body, an interactive piece displayed in San Diego. The project, which featured coloured silhouettes of bodies with the slogans written on them, was meant to highlight "our social obsession with thin ideals".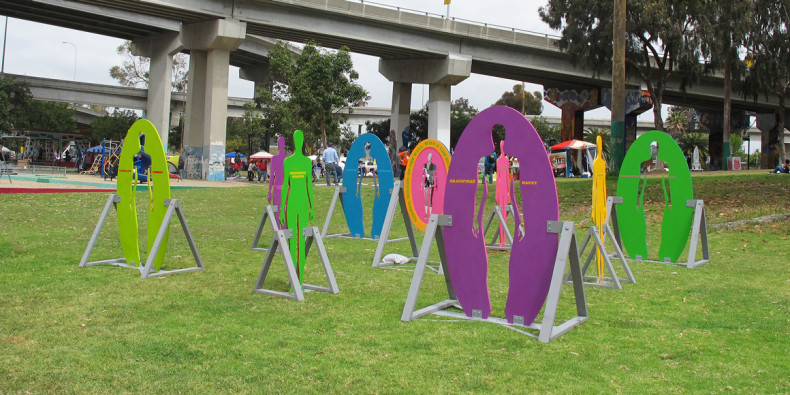 Rooke previously said he would not be removing the t-shirts from sale, adding he wished the people complaining about the shirts would assess their "real intentions".
"Art is not about being politically correct but pushing people to think," he added.
However, Urma confirmed she has now removed the t-shirts from sale after claiming she received hate mail as a result of her designs.
She told the IBTimes UK: "These T-shirts were an extension of an art installation I created called My Model Body which criticised the media's pervasive representation of extremely thin women as ideal, which leads to psychological pain and eating disorders. I, being a woman, like almost all women, have real experience with it and that is the whole reason I created this self-funded project.
"The slogans are sarcastic, and were written on the installation, which in its entirety used sarcasm. Sarcasm is a method often used in critique. As the project was well received as an installation - people even thanked me for bringing attention and criticism to this topic - I thought to extend it beyond those who could see it in person, through T-shirts."
She added: "After I heard, rather late in the game, that somehow these T-shirts and their goal were completely misunderstood, I decided to take them down because I saw that their original intent did not work outside of the context of the installation as a whole.
"They were not integral to my project, and in fact none ever sold until the petition advertised them, and then only one sold."
Despite the claims from Urma and Rooke, Uziel said he is "appalled" that that the shirts were ever available for sale.
He told IBTimes UK: "Eating disorders can be fatal to those afflicted. T-shirts that normalise these dangerous conditions and worse, even laud them, are a public health hazard."
Rooke said the petition was "really about censorship" rather than signing up for a meaningful change to overcome eating disorders.
He added: "It is very easy to merely say that something is wrong and attack a platform without researching the issue or understanding what the actual content is about.
"Personally, I really appreciate the concern shown by the eating disorder community; however most were introduced to the t-shirts by a campaigner who billed them as making fun of eating disorders, rather than the artist's true intention of raising the concern via controversial statements."
A Spreadshirt spokesperson added: "Spreadshirt takes firm steps to remove any items that are outside of the law or have a direct incitement to violence against an individual. We are very proud of the fact that we allow artists, designers, campaigns, and many different people to express their ideas on merchandising.
"None of the items published reflect or represent the views of Spreadshirt, nor should the views of Spreadshirt and its employees be used to govern what sellers can place for sale."