Alton Towers crash: 'Blood everywhere' after smash on 14-loop The Smiler ride at Staffordshire theme park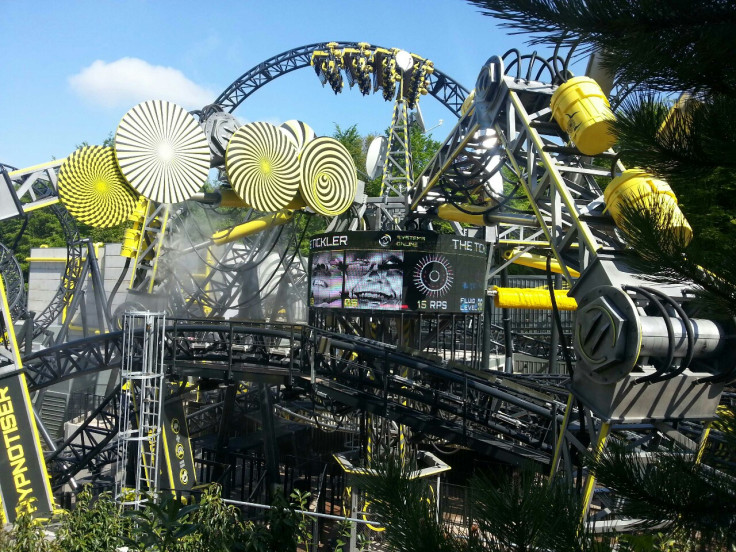 Four Alton Towers thrill seekers have been left with serious injuries after carriages from "The Smiler" ride collided.
16 people were on board at the time of the crash, which involved a moving carriage crashing into stationary one shortly after 2pm.
Paramedics are treating four people - an 18 and 27-year-old man, and two females aged 19 and 17 - at the scene for serious injuries and two air ambulances have arrived at the Staffordshire theme park after the incident.
They are receiving treatment while they remain in the carriage that slammed into another one and will be airlifted to hospital.
A witness tweeted: "Just been a big accident at Alton Towers down to human error, people unconscious, blood everywhere, faces smashed in and knocked out. They sent out a test cart on the smiler and then one with customers and they crashed."
A West Midlands Ambulance Trust spokesman told IBTimes UK it was too early to say what the extent of the patients' injuries were, but said as well as the air ambulance a land ambulance and doctors were at the scene. The operation is still ongoing, he added.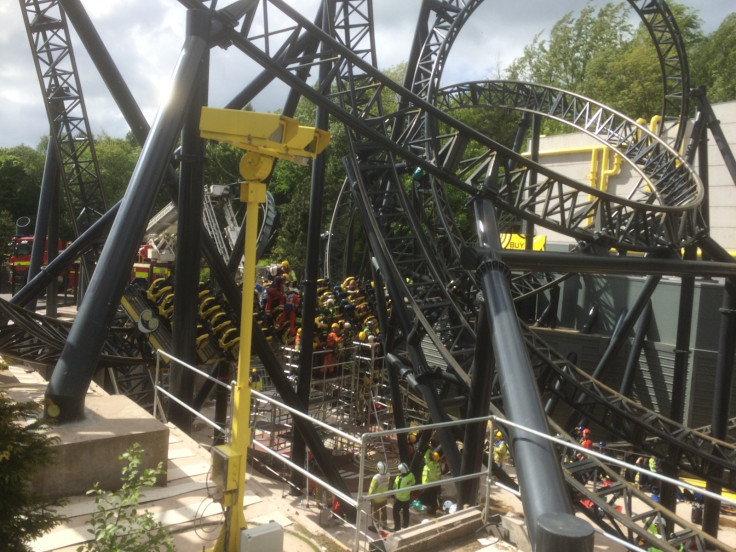 A statement by the trust said: "A 999 call was received from the resort at 2.09pm reporting that a carriage of The Smiler had collided with a stationary carriage.
Community first responders based at the theme park were first on scene and four ambulances, the Midlands Air Ambulance from Cosford with a MERIT trauma doctor on board, two further BASICS doctors and several senior paramedic managers have been sent to the scene."
In a statement, Alton Towers said: "There has been an incident on the Smiler this afternoon involving two carriages coming together on a low section of the track. One of the carriages was empty and the other had 16 guests in.
"The resort's fully qualified first responders were on the scene immediately to assist with the evacuation which is ongoing, and the area has been closed to allow for access to emergency services vehicles.
"To ensure the safe and timely evacuation of guests, a platform is being constructed. This will take a few minutes but will enable us to proceed more quickly.
"There will be a full investigation once we have recovered the guests, who are our priority."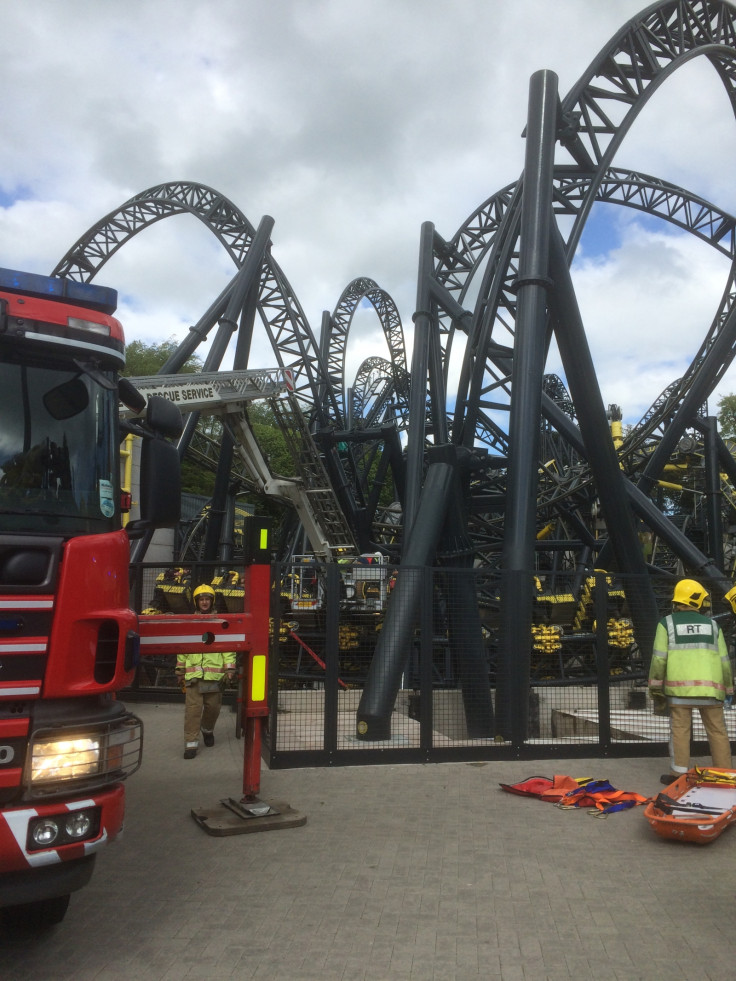 The Smiler, which after delays opened on 1 June, 2013, is the world's first 14 loop rollercoaster and has been given an official Guinness World Record for the most loops in a coaster.
It travels at a maximum speed of approximately 85km/h (52mph) and a summit of 30m.
In afternoon trading, shares in Merlin Entertainments PLC, the parent company of Alton Towers, were down 2.87%.
The Smiler
"The Smiler is the latest new ride at Alton Towers. The new ride, which opened in May 2013, is the world's first 14 loop rollercoaster and has been given an official Guinness World Record for the most loops in a coaster!
"Not for the faint hearted, this new ride at Alton Towers features a series of twisted psychological effects including optical illusions, blinding lights and near misses designed to mess with your mind!"
Ride time: 165 seconds.
Passengers per ride train: 16.
Minimum rider height: 1.4m.
Location: X Sector.
Highest drop: 30m.
Maximum speed: approx 85 km/h.
Track length: 1,170m.
Opening: May 2013.
Source: Alton Towers
© Copyright IBTimes 2023. All rights reserved.