Alton Towers will remain closed today (3 June) as investigations continue following a crash on one of its roller coasters which left four people seriously injured.
The accident occurred at around 2pm yesterday after a carriage carrying 16 people collided with an empty one on the Smiler ride.
Passengers were left stranded 20 feet in the air at an angle of around 45 degrees for several hours before eventually being freed by emergency services.
Two men, aged 27 and 18, and two women, aged 19 and 17, suffered serious leg injuries following the collision. One person has already had their leg amputated.
A West Midlands ambulance service spokeswoman said: "All four were given advanced trauma care, pain relief and immobilisation and were each carefully extricated from the ride and on to the platform before being lowered to the ground.
The Smiler
"The Smiler is the latest new ride at Alton Towers. The new ride, which opened in May 2013, is the world's first 14 loop rollercoaster and has been given an official Guinness World Record for the most loops in a coaster!
"Not for the faint hearted, this new ride at Alton Towers features a series of twisted psychological effects including optical illusions, blinding lights and near misses designed to mess with your mind!"
Ride time: 165 seconds.
Passengers per ride train: 16.
Minimum rider height: 1.4m.
Location: X Sector.
Highest drop: 30m.
Maximum speed: approx 85 km/h.
Track length: 1,170m.
Opening: May 2013.
"The 27-year-old male was then airlifted to University Hospital Coventry and Warwickshire whilst the others were flown to Royal Stoke University Hospital for further emergency treatment.
"The remaining 12 occupants, six women and six men, suffered less serious injuries. They were released one at a time over a time period of four hours and lowered to the ground in order for a further assessment of their condition.
"One of the 12, a male in his 20s, was treated for neck and abdominal injury and was taken to the Royal Stoke University Hospital by land ambulance for further assessment and treatment."
The incident on the Smiler ride, which opened in 2013, was described as the "most serious" ever to occur at the Staffordshire theme park.
It was later revealed that the Smiler ride was temporarily closed hours before the crash when it broke down.
The £18m ($27.6m) ride has suffered a series of breakdowns and problems since it was first opened, including in May 2013 when 16 journalists were left dangling during a test run before it opened to the general public.
The resort has said it is "devastated" at the crash and has promised a full investigation into the incident.
Fail-safe failed
Nick Varney, chief executive of Merlin Entertainments, said a fail-safe designed to prevent these sort of accidents onboard the rides "didn't work the way it was supposed to."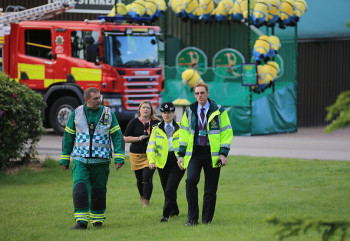 He told BBC News: "The Smiler is a relatively new ride, all rides have teething problems when they open. Guest safety on those sorts of incidents is not really a major issue in the sense that when you're on a roller coaster car, the car can't come off the track and you are restrained in the seats. When you have a glitch and the ride stops, it's not really an issue of safety to the riders.
"What happened yesterday is something that there are other fail-safes for. There are other braking locks that should stop two cars being on the same track."
Ian Crabbe, Alton Towers divisional director, said: "May I first say that my colleagues and I are devastated by what has happened here today, and our only priority at this time is to work with the emergency services to get the 16 people affected off the ride safely, and most importantly those who are injured are being cared for.
"Our concern is with and for them and for their safety, and all our thoughts and efforts are focused on them. A full investigation is under way, and representatives of the Health and Safety Executive are already on site and working with us."