All the injured riders trapped in a mangled carriage of the "Smiler" rollercoaster ride at Alton Towers have now been taken off the ride.
16 people were aboard the packed carriage which slammed into an empty stationary carriage as it came out of a loop at 14.09 this afternoon (2 June).
Four people were seriously injured and remained trapped in the wreckage 25 feet in the air at a 45 degree angle for several hours as crews tried to free them. A platform had to be constructed to allow crews to treat those injured.
Eyewitness Ben Richardson said: "When the second carriage crashed people were screaming and shouting - even after it stopped. Everyone around the park ran over.
"The people looked significantly distressed. It was almost like a car crash, very full-on."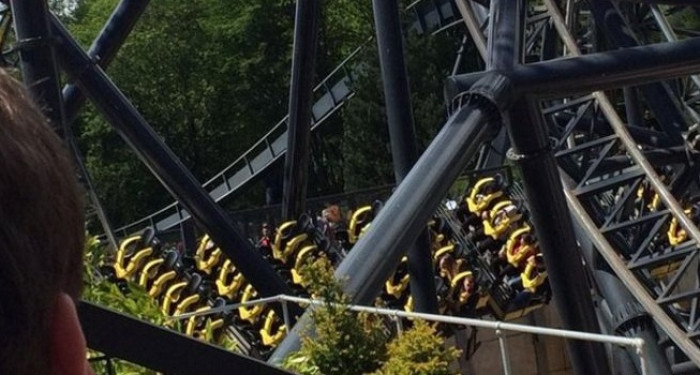 Two boys were taken to the University Hospitals Coventry and Warwickshire and two women in their twenties to Royal Stoke University Hospital with injuries described as serious but not life-threatening.
The Smiler, which opened in 2013, is the first in the world with 14 loops but has suffered a series of technical problems. Even before it opened 16 journalists became stuck on the ride. It was closed on three separate occasions in 2013 due to technical problems.
Eyewitnesses have reported on social media that the ride was delayed for a time before this afternoon's incident, which was described by a director as "the most serious incident" in the history of Alton Towers.
The park will remain closed tomorrow, a spokesman said.
"The decision has been taken that Alton Towers theme park will not open tomorrow 3/6/15 following the dreadful incident on The Smiler.
"Guests with pre-booked tickets and those arriving at the theme park will have the choice of a full refund or an alternative dated ticket.
"We will be posting regular updates on the theme park closure on both our website and social media channels."
Serious accidents involving rollercoasters are rare, and fatalities even rarer. In 1986 three people died on a Canadian ride called the "Mindbender". In 1972 five children died and many more were injured when a rope snapped on a big dipper at Battersea Park.