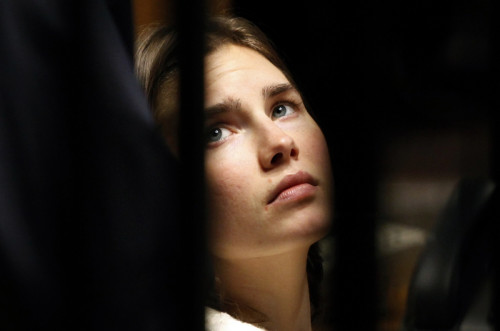 Amanda Knox said she decided against attending her re-trial over the murder of British student Meredith Kercher and remains in the US out of fear of being convicted.
In an email read submitted to a Florence court by her lawyers, Knox, 26, declared her innocence and described accusations against her as a "vicious and unjust abuse".
"I'm not in court because I am afraid," the American student wrote addressing Florence Appellate Court's panel of two professional judges and eight lay jurors.
"I am afraid that the vehemence of the prosecution will make an impression on you, that their smoke will get in your eyes and blind you."
Kercher, 21, from Croydon, south London, was found in November 2007 with her throat slashed inside her room in the apartment she shared with Knox in the university town of Perugia.
Prosecutors alleged that she was killed by Knox, her former Italian boyfriend Raffaele Sollecito and Rudy Guede, a drifter from the Ivory Coast, in an escalation of violence sparked by a row over a dirty toilet.
In the email, which was read into the record by Presiding Judge Alessandro Nencini, Knox described the allegation as a "deformation of facts."
"Meredith was a friend of mine. She was nice, she helped me, she was generous and funny," Knox wrote.
"She never criticised me. She never looked daggers at me, not even once.
"Prosecutors say that Meredith and I argued over cleanliness. This assertion is a deformation of facts," Knox continued. "During the short time we were flatmates we never argued."
Nencini pointedly noted that the email was read despite it not being the normal procedure.
"Who wants to speak at a trial, comes to the trial," the judge said, adding he it was Knox lawyers that stated the letter originated with Knox. "I never saw her, I don't know her."
Knox and Sollecito were arrested days after Meredith's body was found and were sentenced to 26 and 25 years respectively in 2009.
Knox wrote she had been pressured by Italian police's abusive methods into signed a confession that falsely accused a local bar tender Patrick Lumumba.
"They lied to me, yelled at me, threatened me, and gave me two slaps on the head," she wrote.
That guilty verdict was overturned on appeal in October 2011 and the pair, who have always claimed their innocence, were released. But earlier this year, Italy's Court of Cassation quashed the ruling and ordered a retrial.
Prosecutor Alessandro Crini has changed tack from the previous assertion that Kercher was killed because she had refused to take part in a brutal sex game.
Crini told the court the Guede, had defecated in the apartment's toilet but left it unflushed and that had sparked a row between Kercher and Knox, which eventually escalated into the killing.
"I didn't kill. I didn't rape. I didn't rob. I didn't plot. I didn't instigate. I didn't kill Meredith," Knox wrote.
Guede was sentenced to 16 years at the end of a separate trial and is serving his sentence in Viterbo jail, near Rome.
READ:
Amanda Knox Retrial: 'Drugs and Alcohol Frenzy Led to Meredith Kercher Murder'
Meredith Kercher Murder Retrial: No Room for Murder in My Love Fairytale with Amanda Knox, Says Raffaele Sollecito
Amanda Knox's Boyfriend Raffaele Sollecito 'Visited Meredith Kercher's Grave in London'
Meredith Kercher Murder Retrial: I'm Not Hiding from Justice Says Raffaele Sollecito [VIDEO]