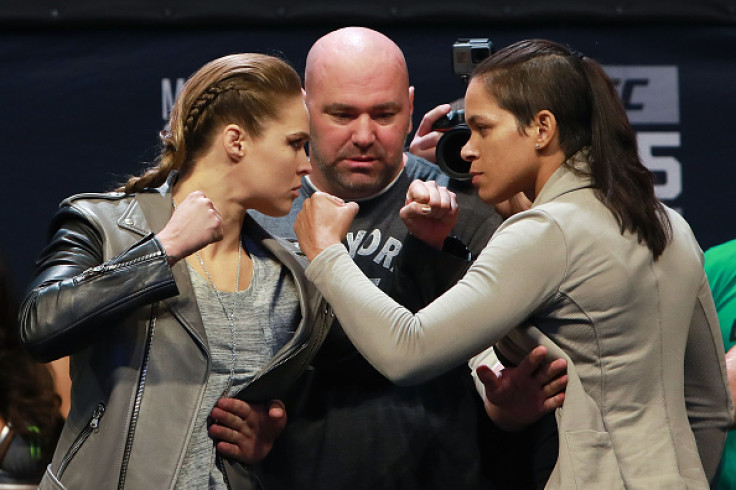 Ronda Rousey made a surprise appearance at the ceremonial UFC 205 weigh in on Friday to promote her bantamweight title fight with Amanda Nunes in UFC 207 on 30 December in Las Vegas. The former Ultimate Fighting Championship bantamweight title holder will appear on stage after Saturday (12 November) events main card Eddie Alvarez and Conor McGregorhas finished their routine weigh in ahead of the fight.
Rousey is making a return to the octagon for the first time in over a year after she suffered a brutal knockout against Holly Holm when she lost her bantamweight title. The crowd had just witnessed the weigh in between McGregor and Alvarez, who are fighting for the light weight title at the Madison Square Garden after which the former champion arrived on stage for her stare down against Nunes, but she immediately stormed off stage not staying to answer any questions.
Joe Rogan managed to get Nunes, but not Rousey for an interview immediately after the stare down and the former made it clear that she trained throughout her career to fight the longest reigning women's bantamweight champion in UFC history.
"She's the fight I asked for. I've been training for this girl my whole career in the UFC, and now I have the chance to defend my belt against her. It's going to be amazing. Are you guys ready for this battle?" Nunes told Rogan following her confrontation with Rousey, as quoted by MMAJunkie.com
Meanwhile, Miesha Tate, who lost her title to Amanda Nunes earlier in the year has backed the Brazilian fighter to retain her title and made a request for a rematch if she wins her UFC 205 bout against Raquel Pennington at Madison Square Garden on Saturday (12 November).
"I wouldn't be surprised if Amanda wins. Amanda's a very tough girl, has the skill set to beat anybody, and we have to wonder where Ronda is mentally after such a long layoff," Tate said, as quoted by the Los Angeles Times.
"The last fight — getting caught early — I believe a second fight between Amanda and I would go differently," the former bantamweight champion added with regards to a possible rematch with Nunes.