Amber Rose, 30, recently surprised fans by filing for divorce from Wiz Khalifa, 27, and now the former lovers are reportedly embroiled in a bitter separation with both accusing the other of cheating.
According to TMZ, the model-turned-actress filed the legal documents because she's convinced her husband of one year had been unfaithful.
Sources told the online publication that since the beginning of Khalifa's tour in July she strongly suspected he was having affairs.
The former pole dancer allegedly told friends she wanted to join the rapper on tour but he came up with a number of excuses, the most frequent being that, "she is a mother and should stay home with their one-year-old and keep house".
She reportedly added that he told her he was bread winner of the family and needed to be left alone to make money while she stayed at home.
However, conflicting reports suggest it was Khalifa who caught Rose cheating and that her allegations are an attempt to cover her tracks.
The rapper allegedly believes she has been having an affair with Nick Cannon, who recently became her manager.
Cannon, 33, is also going through a divorce and according to Media Take Out has been romantically involved with Rose, who has been making him feel "alive" for some time now.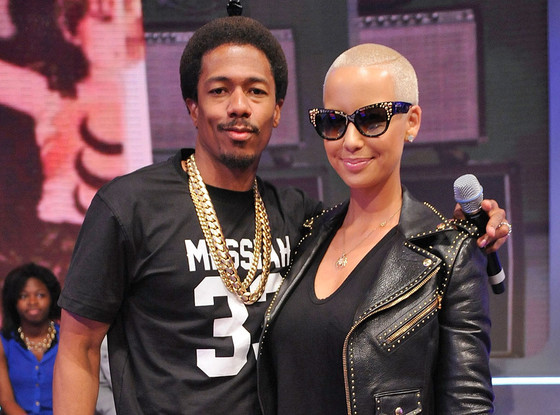 The affair with Rose is rumoured to have broken up the entrepreneur's six-year marriage to Mariah Carey, 44.
"Amber has had a crush on Nick since forever. He was like a mentor to her, and I think she fell in love," a source said.
"I think Amber is ready to move on with her life. And Nick is the man she wants to move on with," the source added.
Cannon recently cast Rose as MarryWanna in his latest film, School Dance, where she plays a popular high school senior.
Speaking on the the role, she told the Daily Mail, "[I said] 'Nick! Look! I would really really like to have a part in this movie, if you could write me in somehow or just give me a role' and that's exactly what he did.
"So, it was just really cool. Me and Nick are good friends. Just being on set with all of those comedians was just hilarious. We laughed until we cried every day," she added.
According to reports, Wiz has a drug problem and walks around as 'high as a kite' most of the time which contributed to their marital problems.
Meanwhile, Wiz has privately complained that Rose bamboozled him with her sex appeal but became 'one big nag' after they got married.