US Muslims raise $50,000 to repair vandalised Jewish cemetery headstones
Fundraising campaign by Jewish community in St Louis hit $20,000 target in just three hours.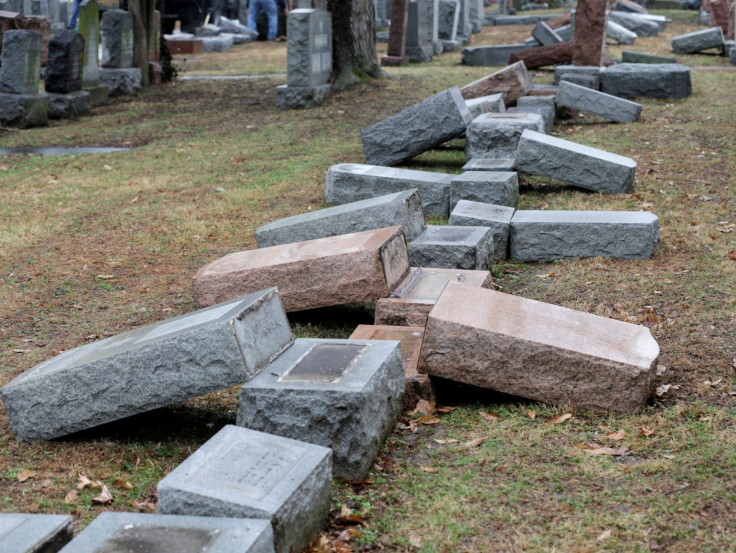 A fundraising campaign, set up by a US Muslim community, to help repair damaged headstones at a Jewish cemetery in Missouri, has raised more than $50,000 (£40,000) in just over a day.
More than 170 headstones were toppled over and vandalised at Chesed Shel Emeth Society in St Louis. The incident occurred after 11 reported bomb threats were made against Jewish community centres across the US in one day, on top of at least 69 similar threats made throughout January.
No arrests have been made in connection with the vandalism at the Jewish cemetery or the hoax bomb threats.
A fundraising campaign, organised by US Muslims Linda Sarsour of MPower Change and Tarek El-Messidi of CelebrateMercy, was soon set up to help repair the damaged headstones at Chesed Shel Emeth Society.
The LaunchGood online fundraiser was set up in the hope it would "send a united message from the Jewish and Muslim communities that there is no place for this type of hate, desecration, and violence in America. We pray that this restores a sense of security and peace to the Jewish-American community who has undoubtedly been shaken by this event."
The campaign managed to reach its goal of raising $20,000 in just three hours and has continued to raise nearly $60,000 from more than 2,600 donors at the time of publication.
The campaign states that any remaining funds after the cemetery will go towards repairing any other vandalised Jewish centres.
Elsewhere, fellow Muslim organisations, the Council on American-Islamic Relations and the Islamic Society of North America (ISNA) also condemned the vandalism described by Missouri Governor Eric Greitans as a "cowardly act".
ISNA President Azhar Azeez said: "Anti-Semitism, Islamophobia and other forms of hatred and bigotry are contradictory to the pluralistic values of our nation. As a nation, we are stronger united, not divided. The divisiveness of hatred and bigotry is a threat to our nation's unity.
"We encourage our members to reach out to their local synagogue and Jewish neighbours to express their solidarity and support and to generously support the rebuilding of the recently desecrated cemetery."
The Council on American-Islamic Relations (CAIR), is also offering a $5,000 reward for information which will lead to the arrest of those who made the hoax bomb threats.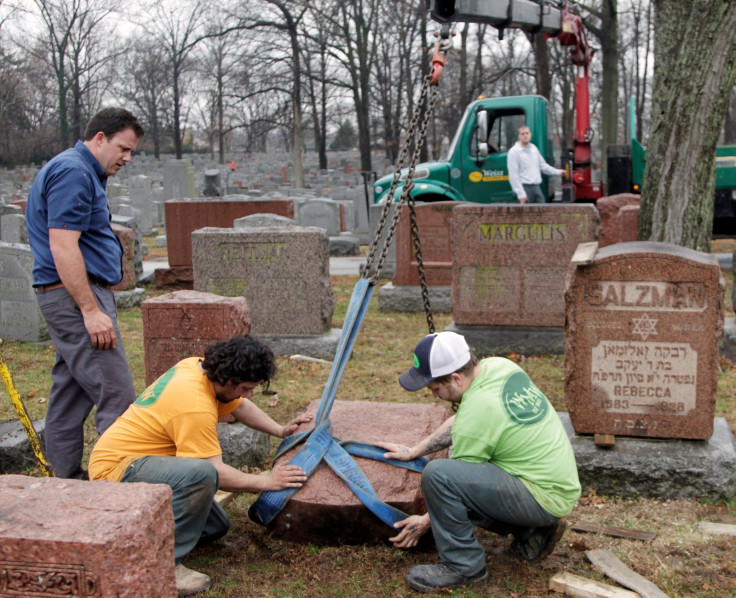 Following criticism he had failed to fully answer a question at the press conference – on how he intends to respond to bomb threats made against the Jewish community – US President Trump condemned the cemetery vandalism at a talk at the National Museum of African American History and Culture in Washington.
Trump said: "Anti-Semitism is horrible and it's going to stop and it has to stop."
He added: "The anti-Semitic threats targeting our Jewish community and community centres are horrible and are a painful and a very sad reminder of the work that still must be done to root out hate and prejudice and evil."
© Copyright IBTimes 2023. All rights reserved.