FX's limited series American Crime Story: The People v O J Simpson premieres this Tuesday, 2 February at 10 pm ET/PT. The 10-episode series will showcase the O J Simpson trial told from the perspective of the lawyers.
According to the network, the show will explore the chaotic behind-the-scenes dealings and manoeuvring on both sides of the court, and how a combination of prosecution overconfidence, defence shrewdness and the LAPD's history with the city's African-American community gave a jury what it needed: reasonable doubt.
The premiere episode is titled, From the Ashes of Tragedy, and the official synopsis reads as follows:
The murders of Nicole Brown Simpson and Ronald Goldman lead the LAPD to the home of O.J. Simpson (Cuba Gooding Jr.). Written by Scott Alexander and Larry Karaszewski; directed by Ryan Murphy.
The show features a star-studded cast with actor John Travolta as Robert Shapiro, Sarah Paulson as Marcia Clark, David Schwimmer as Robert Kardashian, Cuba Gooding Jr as O J Simspon, Billy Magnussen as Kato Kaelin and Courtney B Vance as Johnnie Cochran.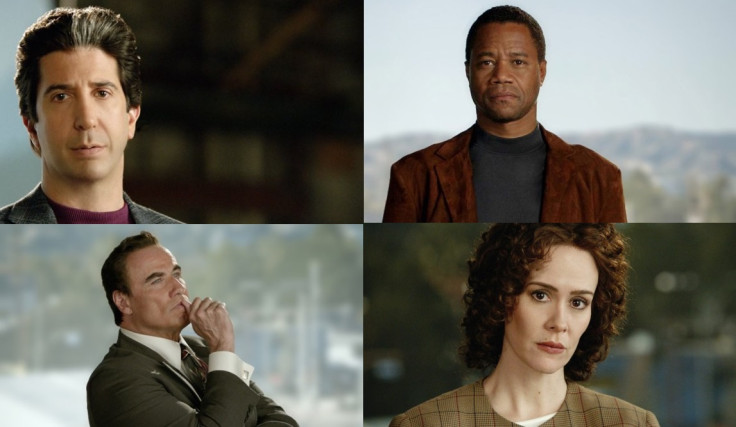 Travolta has revealed that he was unsure about playing Simpson's attorney Shapiro. Travolta told Entertainment Weekly: "I had been approached a number of times [to do TV. I spent so many years doing film. I admired television and its evolution. I was in love with Mad Men and a couple of other series. I thought they were doing the quality of good film, of a great feature film. I decided it was worth a gander to at least hear what [executive producers] Ryan Murphy and Nina Jacobson had to say about it.
"The thing that sold me finally was not the sensationalism of the piece but more that it was going to be an echo of how it changed society."
Paulson, who plays Clark, the lead prosecutor in the O J trial, talks about her role in an interview with E! Online. "All I want is for there to be a proper holding for who Marcia Clark is in the world instead of this two-dimensional idea that was slapped together by the media, Women in general didn't really rally around her during the trial at the time...People didn't want to be smart and strong and ambitious."
As early reviews for the series hit the internet, many critics have already dubbed the series as must watch.