This episode - titled Head Full Of Now - features a 'Coming to America' prologue, just as the previous two did, and much like the others, centres on death. While the first centred on an unseen god, and The Secret of the Spoons introduced trickster god Mr Nancy, here viewers meet Mr Jacquel (Chris Obi), or, as Egyptian mythology likes to call him, Anubis, the god of the dead.
He pays a seemingly unexpected visit to an elderly woman named Mrs Fadil and informs her that she is, in fact, dead, and he has arrived to escort her soul to another plane. The pair travel to a desert where Fadil's heart is weighed and she is shown five doors, each of which leads to a different version of the afterlife. As she doubts Jacquel's role, her former pet cat pushes her through a door.
Meanwhile, after his evening with Mr Wednesday at Czernobog and the Vechernyaya sisters' abode, Shadow dreams of meeting a young woman - Zorya Polunochnaya, aka the Midnight Star - on top of the building.
As she sporadically glares through a huge telescope, she explains that she and her siblings, the Morning Star and the Evening Star, are tasked with minding "bad things" in the sky and protecting the world from them.
Midnight Star offers to read Shadow's fortune and he reluctantly agrees. She tells him that he has nothing, or more accurately, he believes in nothing, so subsequently, has nothing. It's all about the concept of belief.
Zorya persuades Shadow to kiss her in exchange for help, which comes in the form of a moon. She plucks it from the sky and places it in his hand, where it becomes a coin. She explains to him that it will offer him protection like he once had when he "had the sun." He abruptly awakes.
Wednesday persuades Shadow to help him rob a bank. They need a distraction. Wednesday tells Shadow to think of snow, and when he does so a blizzard descends upon Chicago. The power of belief again.
As the snow falls, Wednesday sets up shop outside the bank's night box and poses as an employee. When the customers arrive to drop off their deposits, he takes them, saying the box is unavailable.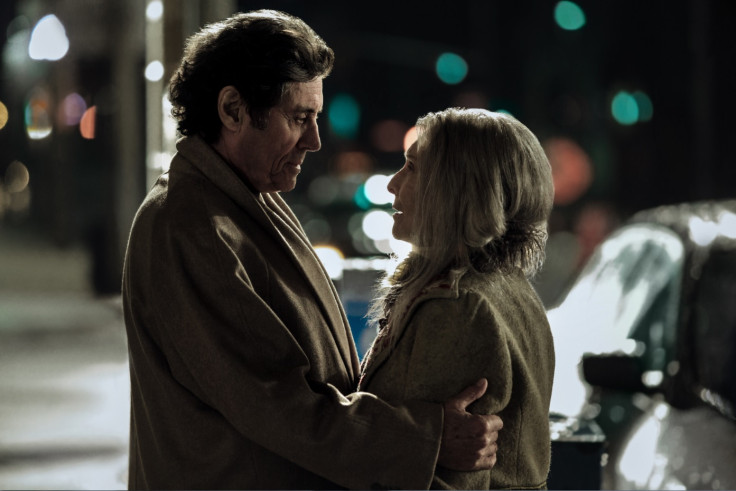 Mad Sweeney (Pablo Schreiber) from the pilot episode is back this time round, starting off drunk and bloodied in Jack's Crocodile Bar (what's new?) and ending up in a hitchhiker's car. A truck in front of them swerves and loses some of its cargo. A metal pipe smashes through the windscreen and kills the driver... something the police officers deduce as being "extreme bad luck".
It's at that point that Sweeney realises he's without his lucky coin ... and he wastes no time in hunting down Shadow, whom he accidentally gave it to, to enquire where it is (of course, eagle-eyed viewers will know that the latter threw it into Laura Moon's grave at the end of the pilot).
Like the last episode, the most exciting moments arrive in the final minutes, which this time see Sweeney digging up Laura's coffin (Emily Browning); only to find it empty. Where could she be? Well, apparently, she's made her way back to Shadow and he's pretty darn stunned to see her sitting in his motel room as the credits start wrapping up.
Regardless of whether you fully understand what's going on or not, it's praiseworthy how daring the show is willing to be. In a seemingly unrelated scene - although we know already that everything will connect at some point - viewers are introduced to Salim (Omid Abtahi), a salesman who meets a flame-eyed genie (Mousa Kraish) in a New York City cab. The two instantly feel a spark between them and travel to a hotel room to have very graphic sex.
It's unlike anything you've ever seen before on television, and while it's certainly not the kind of thing Amazon Prime Video users want to be catching up on during your morning commute, it never once feels gratuitous. Just intimate, bold and passionate.
Nice one, Bryan Fuller and Michael Green. Keep pushing those boundaries and fans are sure to keep tuning in, even if they don't have a clue what is going on...